THE BLOOD OF JESUS CLEANSES YOU FROM ALL SIN AND GUILT (1 JOHN 1:7). JESUS IS THE DELIVERER!!

DEMONBUSTER.COM
DELIVERANCE MANUAL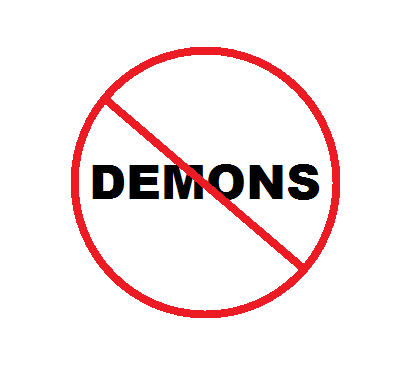 NO DEMONS ALLOWED

POTTY TRAINED
AFTER DELIVERANCE

If you came here because of someone mocking God, be careful. Jesus said that Deliverance is a Miracle. Mocking the Miracle that the woman below received for her child is mocking God.
We received the following email. It is about a woman learning about DELIVERANCE, and practicing DELIVERANCE on her young child. This is her testimony to the power of Jesus Christ, through Deliverance.
"Well my baby boy has been difficult to potty-train. He is past the age that he should be trained and I was getting really tired of it. I would sit him in the toilet for a long time and nothing would happen. When I would put him back in diapers, he would go! And I was sick and tired of it. So I got really mad, sat him in the potty and told him he had to "go". The baby started screaming and I got the idea that it was a demon. So I commanded it to manifest and give me his name. The baby continued screaming and saying: "You can't make me, you can't make me". I insisted in the demon telling me his name, so the Holy Spirit said: "That's his name, "you can't make me". I commanded it out. The baby had deliverance and he has been potty-trained since."
Praise the Lord!
Everyone has demons, even young children AND YOU. Stop listening to people who don't know what they are talking about, and start casting out your demons. Of course, you must be Saved to do this since it is the NAME OF JESUS that is used.

JESUS IS THE DELIVERER
DON'T STOP HERE! SEE OUR INDEX FOR MORE ARTICLES.
THERE IS NO HATE, MALICE, RACISM, ETC. ON THIS SITE. THESE ARE SINS IN THE EYES OF GOD, AND ARE ALSO DEMONS. THE BIBLE MAKES IT CLEAR THAT SIN CANNOT GET INTO HEAVEN.