THE BLOOD OF JESUS CLEANSES YOU FROM ALL SIN AND GUILT (1 JOHN 1:7). JESUS IS THE DELIVERER!!

DEMONBUSTER.COM
DELIVERANCE MANUAL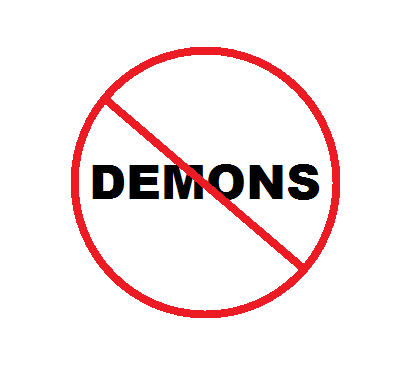 NO DEMONS ALLOWED

POVERTY

Genesis 45:11"...I will sustain and provide for you, so that you and your household and all that are yours may not come to poverty and want..."

In all the years we have been ministering DELIVERANCE, most of the people that were sent our way were poor, without jobs or barely making it, and sick. I (Elizabeth) was wondering why, so I decided to do a study of this, and this is what I found out.
SINS, INIQUITIES AND DEMONS THAT CAUSE POVERTY
Throughout the Bible we are instructed to follow and serve God and His Word. When there is lack of knowledge of God's Word, we are destroyed because of our ignorance. (Hosea 4:6) The following Scriptures keep us from being ignorant of the way that POVERTY operates in our lives:
Proverbs 6:9 "How long will you sleep, O sluggard? When will you arise out of your sleep?"
10) "Yet a little sleep, a little slumber, a little folding of the hands to lie down and sleep --
11) so will your POVERTY come like a robber or one who travels [with slowly but surely approaching steps] and your want like an armed man [making you helpless]."
The dictionary says that sluggard means one habitually inactive; slow heavy person. This demon will keep us from reading and studying the Word of God; from praying and doing Warfare; from doing DELIVERANCE. It will keep us from getting a job, etc.
Proverbs 13:18 "POVERTY and shame come to him who refuses instruction and correction, but he who heeds reproof is honored."
As we look at the spiritual and carnal side of this Scripture, it needs little interpretation. If you don't accept the truth of God's Word -- He will cause you to believe a lie (II Thessalonians 2:10and11)
Again, Proverbs 20:13 "Love not sleep, lest you come to POVERTY; open your eyes and you will be satisfied with bread."
The sluggard demon must be a strongman for the Scriptures to talk about him several times.
Other demons to cause POVERTY are found in Proverbs 23:21 "For the drunkard and the glutton shall come to poverty, and drowsiness shall clothe a man with rags." Usually a drunkard sleeps a lot. Also, after a big meal, what do you want to do? Sleep.
This curse needs to be broken in Jesus' name and these demons cast OUT of us.
Again, Proverbs 24:33and34 talks about sleep and POVERTY.
Proverbs 28:19 tells us not to follow the wrong people. "...but he who follows worthless people and pursuits will have POVERTY." We are to follow the Lord and know His Will for our lives and follow after His Ways. That's where our peace, joy and happiness will be.
Proverbs 28:22 "He who has an evil and covetous eye hastens to be rich and knows not that want will come upon him."
After reading these Scriptures and gaining knowledge of God's Word, let's confess and repent of our evil and wicked ways and cast these demons OUT, in the name of Jesus.
Proverbs 24:30-32 tells us more about the lazy man. "I went by the field of the lazy man, and by the vineyard of the man void of understanding; And, behold, it was all grown over with thorns, and nettles were covering its face, and its stone wall was broken down. Then I beheld and considered it well; I looked and received instruction."
Beloved, it is time to look at yourself and consider the Word of God and receive instruction. Prayer will not cast a demon OUT -- commanding the demon (fear, poverty, laziness, etc.) in the authority of the name of Jesus will.
Let's pray:
Father, in Jesus' Name, I confess and repent of the sins and iniquities on my behalf and on the behalf of my ancestors of being a sluggard, lazy, not receiving instruction, drunkenness, gluttony, of following the wrong people and pursuits, and of covetousness.
I go back to Adam and Eve on both sides of my bloodline and I break the curse of POVERTY off of me and my family, in Jesus' name.
I bind the strongman of sleep and I command the demons to come out of me now, in Jesus' name. I terminate your assignment and command you to come out of my conscious, subconscious, unconscious mind, all parts of my body, will, emotions and personality, in the name of Jesus.
(NOW START COMMANDING THESE DEMONS TO LEAVE YOU)
POVERTY-----COVETOUSNESS-----FOLLOWING WRONG PEOPLE AND PURSUITS
DRUNKENNESS-----THE SLUGGARD-----HABITUALLY INACTIVE-----LAZY
SLOWNESS-----SHAME-----REFUSING CORRECTION AND INSTRUCTION
LOVE OF SLEEP-----GLUTTONY-----EVIL EYE-----COVETOUS EYE-----HASTY
MAN VOID OF UNDERSTANDING-----IMPATIENCE
(Look these words up in a THESAURUS, and cast OUT all the names you find under it.)
After DELIVERANCE pray this::
Father, fill me fuller with the Holy Spirit where all the demons left. Restore my body, soul and spirit, in the name of Jesus.

JESUS IS THE DELIVERER
DON'T STOP HERE! SEE OUR INDEX FOR MORE ARTICLES.
THERE IS NO HATE, MALICE, RACISM, ETC. ON THIS SITE. THESE ARE SINS IN THE EYES OF GOD, AND ARE ALSO DEMONS. THE BIBLE MAKES IT CLEAR THAT SIN CANNOT GET INTO HEAVEN.