THE BLOOD OF JESUS CLEANSES YOU FROM ALL SIN AND GUILT (1 JOHN 1:7). JESUS IS THE DELIVERER!!

END-TIME DELIVERANCE MINISTRY DEMONBUSTER.COM
DELIVERANCE MANUAL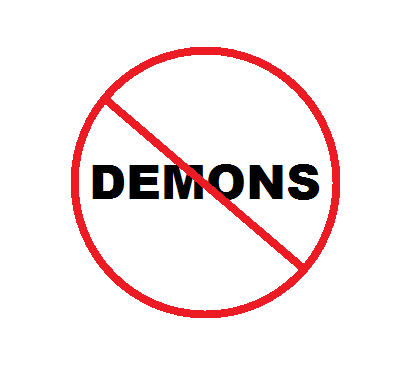 NO DEMONS ALLOWED

SAMPLE PRAYER BEFORE DELIVERANCE

Dear God, in the name of JESUS:
According to Romans 10:9 I confess with my lips that JESUS is Lord and in my heart I believe that You raised him from the dead. According to Luke 13:3 I repent of my past sins and I admit and confess that I have sinned (name) and I believe that You are faithful and just to cleanse me from all unrighteousness. I call upon You, Lord JESUS to cleanse me from all sin and unrighteousness by Your Blood (1 John 1:7). And as Your word says in Romans 10:13 Everyone who calls upon the name of the Lord will be saved.
I confess, repent and ask forgiveness of occult practices such as (witchcraft, fortune telling, horoscopes, astrology, water witching, etc.)
I renounce all occult practices and satan and break all curses associated with those occult practices. According to Galatians 3:13 Christ purchased our freedom [redeeming us] from the curse [doom] of the Law [and its condemnation] by [Himself] becoming a curse for us, for it is written [in the Scriptures], Cursed is everyone who hangs on a tree (is crucified); Deut. 21:23.
I confess, repent, and ask forgiveness of all sins listed in Deuteronomy 27 and 28 and break the curses associated with these sins.
I confess, repent and ask forgiveness of my iniquities and my fathers' iniquities according to Leviticus 26:40 and I break the curses associated with these iniquities.
I break and loose myself from all evil soul ties with my mother, father, brother, sisters, spouses, former spouses, former sex partners, etc.
Lord JESUS: I forgive my mother, father, brothers (name), sisters (name) and _______and anyone else who has ever hurt me. Matthew 6:15, 18:21, 22, 35; Luke 11:4 (Lord's prayer).
I break and loose myself and my family from all curses that have been and are being placed upon me and my family: curses of witchcraft, physic thoughts or prayers, ungodly intercessory prayers, and words spoken in anger and I return these curses to the sender(s) sevenfold and bind them upon them by the blood of JESUS. In JESUS Name, Amen.

JESUS IS THE DELIVERER
DON'T STOP HERE! SEE OUR INDEX FOR MORE ARTICLES.
THERE IS NO HATE, MALICE, RACISM, ETC. ON THIS SITE. THESE ARE SINS IN THE EYES OF GOD, AND ARE ALSO DEMONS. THE BIBLE MAKES IT CLEAR THAT SIN CANNOT GET INTO HEAVEN.