THE BLOOD OF JESUS CLEANSES YOU FROM ALL SIN AND GUILT (1 JOHN 1:7). JESUS IS THE DELIVERER!!

DEMONBUSTER.COM
DELIVERANCE MANUAL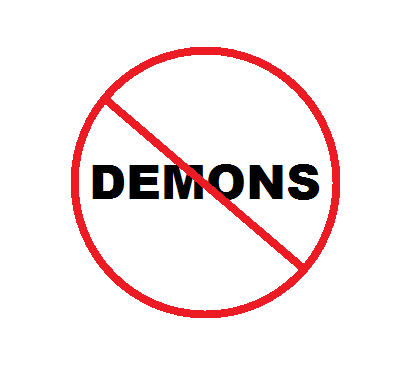 NO DEMONS ALLOWED

PRAY AND FAST

Please continue to pray for all DELIVERANCE Ministries. JESUS prayed earnestly and intently according to
Luke 22:44: "And being in an agony [of mind], He prayed [all the] more earnestly and intently, and His sweat became like great clots of blood dropping down upon the ground."
We should pray earnestly and intently for each other. The enemy is out to destroy us and we are in a battle according to the word of God. We must pray without ceasing and as in
Ephesians 6:18: "Pray at all times (on every occasion, in every season) in the Spirit, with all [manner of] prayer and entreaty. To that end keep alert and watch with strong purpose and perseverance, interceding in behalf of all the saints (God's consecrated people)".
God's word says that at times we will have to FAST AND PRAY as in
Matthew 17:18-21: "And JESUS rebuked the demon, and it came out of him, and the boy was cured instantly. Then the disciples came to JESUS and asked privately, Why could we not drive it out? He said to them, Because of the littleness of your faith [that is, your lack of firmly relying trust]. For truly I say to you, if you have faith [that is living] like a grain of mustard seed, you can say to this mountain, Move from here to yonder place, and it will move; and nothing will be impossible to you. But this kind does not go out except by PRAYER AND FASTING."
AND AS IN Mark 9:25-29: "But when JESUS noticed that a crowd [of people] came running together, He rebuked the unclean spirit, saying to it, You dumb and deaf spirit, I charge you to come out of him and never go into him again. And after giving a [hoarse, clamoring, fear-stricken] shriek of anguish and convulsing him terribly, it came out; and the boy lay [pale and motionless] like a corpse, so that many of them said, He is dead. But JESUS took [a strong grip of] his hand and began lifting him up, and he stood. And when He had gone indoors, His disciples asked Him privately, Why could not we drive it out? And He replied to them, This kind cannot be driven out by anything but PRAYER AND FASTING."

PRAYER AND FASTING IS SUCH A POWERFUL WEAPON AGAINST THE ENEMY, THAT MOST OF THE NEWER BIBLE TRANSLATIONS OMIT THE PRAYER AND FASTING COMBINATION. What else did the devil have them take out?

JESUS IS THE DELIVERER
DON'T STOP HERE! SEE OUR INDEX FOR MORE ARTICLES.
THERE IS NO HATE, MALICE, RACISM, ETC. ON THIS SITE. THESE ARE SINS IN THE EYES OF GOD, AND ARE ALSO DEMONS. THE BIBLE MAKES IT CLEAR THAT SIN CANNOT GET INTO HEAVEN.