-- This is NOT the website of Gene Moody. It is the website of DEMONBUSTER.COM.

THE BLOOD OF JESUS CLEANSES YOU FROM ALL SIN AND GUILT (1 JOHN 1:7).
JESUS IS THE DELIVERER!!

DEMONBUSTER.COM
GENE AND EARLINE MOODY
DELIVERANCE MANUAL

MAIN PAGE IS AT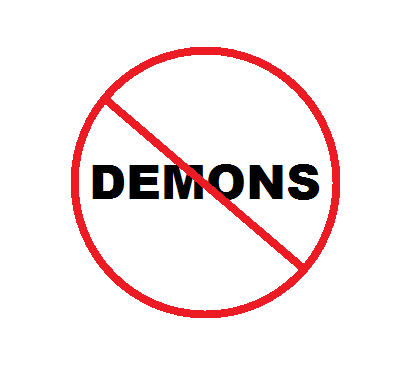 NO DEMONS ALLOWED

RELIGIOUS SPIRITS

SCRIPTURE
Acts 13:43Now when the congregation was broken up, many of the Jews and religious proselytes followed Paul and Barnabas: who, speaking to them, persuaded them to continue in the grace of God.
Acts 26:5Which knew me from the beginning, if they would testify, that after the most straitest sect of our religion I lived a Pharisee.
Gal. 1:13-14For ye have heard of my conversation in time past in the Jews" religion, how that beyond measure I persecuted the church of God, and wasted it. And profited in the Jews' religion above many my equals in mine own nation, being more exceedingly zealous of the tradition of my fathers.
Jas. 1:26-27If any man among you seem to be religious, and bridleth not his tongue, but deceiveth his own heart, this man's religion is vain. Pure religion and undefiled before God and the Father is this, To visit the fatherless and widows in their affliction, and to keep himself unspotted from the world.
PREFACE
A lot could be written about people being religious and why they conduct themselves this way. There are religious spirits/demons. They are difficult to cast out because the people think that their religiosity is godly.
Religiosity is tied into man's traditions, dogma, heresy, rules, regulations, denominations, doctrines and teaching that is not of The Bible. You could call this type of teaching doctrines of devils.
There are multiplied billions of people around the world who think their religion is the only correct one and will fight you to the death to defend themselves. They will proselyte people in other religions and even kill if the person will not convert or does convert to another religion especially Christianity. They are willing to die to destroy other people and their faith.
There is a lot of persecution of people of different religions. In Christianity, there are about 200,000 people martyred each year and hundreds of millions persecuted in different ways because they are Christians. Persecution has come to America.
People are very zealous of their traditions. They have a closed mind to the truth of The Bible. Even Christians will fight you over speaking in tongues, praying for the sick, casting out demons and believing in prosperity. Christianity is very splintered because of beliefs and Christians are not in unity even over salvation.
Many people want to appear religious. It can be discerned in their clothing, jewelry, makeup, hairdos, and what is presented externally. It can be discerned in their voice, facial expressions and mannerisms; it is frequently an act of showmanship.
Do you control your tongue or does your tongue control you? If so, your religion is vain. Are you are headed for Hell?
How do you treat the fatherless and widows in their affliction? Do you keep yourself unspoted from the world? This is a good check on the state of your Christianity.
What is your religion or traditions? Do you persecute others who do not follow your brand of religion? Do you profit from your religion or do you profit from following The Word Of God?
Do you believe that your outward appearance saves you? Do you tell the truth about what is in your heart? Do you believe that your brand of Christianity is the only way to Heaven?
STRONG'S CONCORDANCE
1. ceremonial observance, religion, worshiping
2. ceremonious in worship, demonstrative, pious, religious
3. to revere, adore, devout, religious, worship
Is your religion just a ceremonial observance or ritual? What are you worshiping? What do you demonstrate? Are you devout, pious and religious? How do you use your faith? What do you revere and adore? Is it man or God?

JESUS IS THE DELIVERER