THE BLOOD OF JESUS CLEANSES YOU FROM ALL SIN AND GUILT (1 JOHN 1:7). JESUS IS THE DELIVERER!!

DEMONBUSTER.COM
DELIVERANCE MANUAL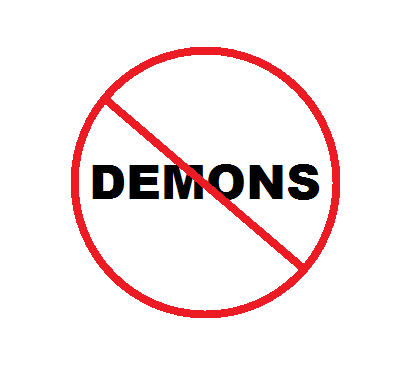 NO DEMONS ALLOWED

RELIGIOUS DEMONS

How do you know if you have a RELIGIOUS demon? You may send an email like this that we received on June 14, 1999.
"Please provide me some background info on yourself before I share your teaching with others.
Who is your pastor?
Member of what Church?
Ministry Credential?
Ministry training?
Length of ministry experience?
Accountability?
Denominational background?
These questions will not be offensive if things are in order. May God bless you in your efforts for His Kingdom!"

I did not answer the questions, but told them these were probably the same questions the Scribes and Pharisees asked Jesus and His disciples. I also told them that if they started their own DELIVERANCE, they would not need answers to these questions.
A RELIGIOUS demon has been the strongest demon we have ever encountered. You just can't reach these people with DELIVERANCE. We do not argue or try to convince anyone about anything. If you want help, we can help you. If you want a "sign", or a list of answers, you will not get any from us. We just stick with the "signs and wonders".
A RELIGIOUS demon usually knows a lot of Scripture. Unfortunately, they can't seem to remember reading Mark 16:17 saying that they should be casting OUT demons, in the name of Jesus. It seems as if they are blinded to the Truth of DELIVERANCE.
Unless the Lord has give you a hardened heart, you can get DELIVERANCE.

JESUS IS THE DELIVERER
DON'T STOP HERE! SEE OUR INDEX FOR MORE ARTICLES.
THERE IS NO HATE, MALICE, RACISM, ETC. ON THIS SITE. THESE ARE SINS IN THE EYES OF GOD, AND ARE ALSO DEMONS. THE BIBLE MAKES IT CLEAR THAT SIN CANNOT GET INTO HEAVEN.