THE BLOOD OF JESUS CLEANSES YOU FROM ALL SIN AND GUILT (1 JOHN 1:7). JESUS IS THE DELIVERER!!

DEMONBUSTER.COM
DELIVERANCE MANUAL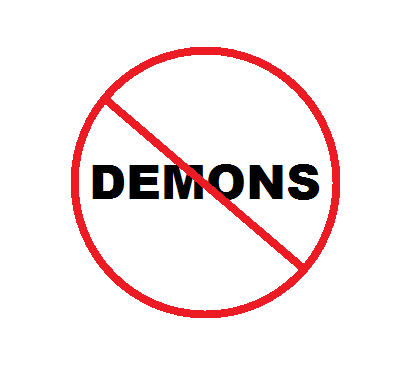 NO DEMONS ALLOWED

ROMANS 8:13

KJV -- " For if ye live after the flesh, ye shall die; but if ye through the Spirit do mortify the deeds of the body, ye shall live."
NIV -- "For if you live according to the sinful nature you will die; but if by the Spirit you put to death the misdeeds of the body, you will live."
LIVING -- "For if you keep on following it you are lost and will perish, but if through the Power of the Holy Spirit you crush it and its evil deeds, you shall live."
AMPLIFIED -- "For if you live according to (the dictates of) the flesh you will surely die. But if through the (Holy) Spirit you are habitually putting to death - making extinct, deadening - the (evil) deeds prompted by the body, you shall (really and genuinely) live forever."
GREEK DEFINITIONS FROM STRONG'S CONCORDANCE
1. LIVE -- Live
2. FLESH -- The body (as opposed to the soul (or spirit), or as the symbol of what is external. Human nature. A human being carnally minded; fleshly.
3. DIE -- Die; It usually denotes separation, departure, cessation, completion, reversal, etc.
4. SPIRIT -- God, Christ's Spirit, the Holy Spirit; A current of air, i.e. Breath (Blast) or a breeze (Human) the rational soul; to breathe hard--blow.
5. MORTIFY -- Become dead, cause to be put to death, kill.
6. DEEDS -- Practice, office, work. Perform repeatedly or habitually.
7. BODY -- Body, Slave. From sozo - to save, i.e. to DELIVER or protect.

GREEK TRANSLATION OF ROMANS 8:13 -- "For if you live after your carnally minded human nature, you shall be separated from God and be spiritually reversed; But if you, through the rational soul, breathe hard by blowing out, do kill the repeated and habitual practice of the slave body through DELIVERANCE, you shall live.

JESUS IS THE DELIVERER
DON'T STOP HERE! SEE OUR INDEX FOR MORE ARTICLES.
THERE IS NO HATE, MALICE, RACISM, ETC. ON THIS SITE. THESE ARE SINS IN THE EYES OF GOD, AND ARE ALSO DEMONS. THE BIBLE MAKES IT CLEAR THAT SIN CANNOT GET INTO HEAVEN.