THE BLOOD OF JESUS CLEANSES YOU FROM ALL SIN AND GUILT (1 JOHN 1:7). JESUS IS THE DELIVERER!!


DEMONBUSTER.COM
DELIVERANCE MANUAL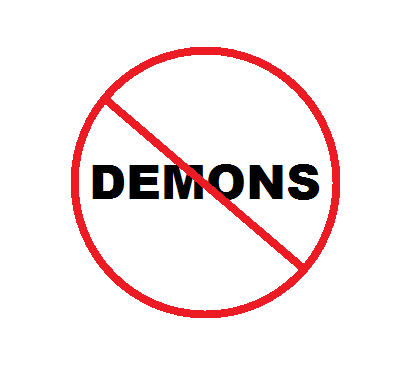 NO DEMONS ALLOWED

RUTH BROWN --
Author of
"DESTROYING THE WORKS OF WITCHCRAFT
THROUGH
FASTING AND PRAYER"

IF YOU ARE LOOKING FOR HELP,
WANT TO GIVE THE ENEMY A BLACK EYE,
AND READY TO DO SPIRITUAL WARFARE,
YOU NEED THIS BOOK.
It is available or can be ordered at your local bookstore, Amazon.com, Barnes and Noble, Impac Books (see below), and other places. It is 57 pages long and is less than six bucks.
It will show you how to combat witchcraft.
HOLD RUTHIE UP IN PRAYER.


Father God, in the name of Jesus Christ, we bind and break all witchcraft, curses, spells, and powers - and through the Blood of the Lamb - destroy the works of every witch, warlock, wizard, sorcerer and all other powers of darkness.
Through the Blood of Jesus Christ we break all their powers - including the influences of witchcraft, evil powers, spells, hexes, vexes, voodoo, hoodoo, roots, potions or any such things - off every person who will read this book or web site. For them also we invoke Psalm 80:18, "so we will not go back from thee: quicken us and we will call upon thy name" so that those who read this will understand, remember and apply consistently what they read.
Through the Blood of Jesus Christ we also bind up and destroy all their spirit-guides, helps, and shields of these workers of evil, and leave them without any strength - stripped of their evil power and influence.
In the name of Jesus Christ, and by the Blood of the Lamb, we now seal up their powers within themselves, so that they cannot use them on anyone, and that their works might be destroyed, in the hope that their souls might be saved for the glory of God. AMEN.

In the Name of Jesus Christ of Nazareth, I come against the prince-ruling spirit and all spirit guides. I come through the Blood of the Lord Jesus Christ, in the Name of Jesus. I paralyze you and silence you, forbidding you from influencing or strengthening them (the witch or witches) in the Name of Jesus, right now!
We are destroying your very works: the spirits of hate, bitterness and murder, spirits of wizardry, sorcery and all your co-spirits, your works, your powers, your influences are destroyed in the Name of Jesus!
I paralyze you, all, right now. You will not be able to use this soul any longer against the church (or, a particular person), in the Name of Jesus.
I come against the spirit of blindness, binding the spirits of bondage and heaviness, fear and hate.
I pray, Lord, that You will open their eyes so they can see the glory of Jesus. Open their hearts so that they can hear Your voice. Break the yokes in their lives and give them liberty in their souls, that they may be free to repent. Show them every evil work and every evil deed they're guilty of, and Lord Jesus, convict their hearts unto repentance. Bring these souls out of darkness; save these souls so that You may have the glory.
Satan, I silence you in the name of Jesus, binding all your interference. You will not interfere with these souls and they will have their own free will choice so as to make up their own minds if they want to repent. They will do it without your interference.
Also, Lord, I pray that you will release warring angels to wage war against these demonic activities, and will send ministering spirits to minister to their souls, in the name of Jesus.

THE FOLLOWING ARE EXCERPTS FROM
"DESTROYING
THE
WORKS OF WITCHCRAFT
THROUGH
FASTING AND PRAYER"
A Paperback book BY RUTH BROWN
THROUGH DELIVERANCE, JESUS CAN DELIVER YOU OUT OF WITCHCRAFT!

About Witchcraft
"Witchcraft", as defined in Webster's Dictionary, is "the power or practice of witches; black magic; sorcery." A "witch" is defined as a woman supposedly having supernatural power by a contract with the devil or evil spirits. A man with such power is called a "warlock."
Often, people have the false assumption that witchcraft refers to someone putting items in your food. But that is not always the case. There are many forms of witchcraft. In some cases, it involves conjuring up demons from hell and dispatching them to churches or individuals to cause envy, strife, and confusion. Spirits of delusion (which will cause a false belief or opinion, meant to mislead; deceive or trick) are a strong tool used in witchcraft.
I've found in my fifteen years of ministry, that a spirit of delusion can destroy a marriage. For example, it will cause suspicion and false accusations to be made by one spouse against the other. In the church, divisions between Pastors and members can result when this spirit is loosed to attack the pastor. Many pastors have been hurt, deceived, misused and had their churches split as a result.
The Lord showed me in a vision, that a group of men were chanting and working witchcraft against a well-known recording artist out of jealousy. I saw spirits being sent to attack him. So, I tried to reach him through one of his brothers, a hairdresser and a dancer, but he never responded. I talked to his employees and told them what God had said. I tried to warn him, but he didn't receive it. Shortly afterwards, I began seeing on television news that all kinds of confusion, strife, and mishaps were coming against him and his entourage. He fell from "Number 1" on the charts to "off" the charts. I wanted to pray with him to destroy the works of darkness. So I prayed for his hairdresser instead, and he received the prayer, and is still being tremendously blessed. So much so, in fact, that he is now writing a book about this testimony.
Recently, I was working with a men's home in Oakland, praying with the brothers there and working deliverance. The brothers were progressing well in the Lord, until a new man moved into the home. I discerned an occult spirit in his eyes. From the moment he came into the home, all kinds of confusion, envy, and strife began erupting daily.
I approached the man and prayed that blindness heaviness, and bondage would be destroyed in him and asked God to reveal to him his heart. He then confessed to the Assistant Pastor that he was a wizard (a male or female magician or sorcerer, one acquainted with the secrets of the unseen world, or an intimate acquaintance of soothsayers; definition, Pictorial Bible Dictionary). He admitted to chanting, but would not repent and turn from his evil deeds. Unbeknownst to him, I was also secretly praying against black magic, and as I did, he started complaining to the counselors that he was going to leave the home. Finally, he did leave and now things are slowly improving there. Prayer will either chase them out or lead to their repentance.
(Remember that people who practice witchcraft are still souls that Jesus died and gave his life for. God loves them and wants them saved too.)
In this book, I have purposely not disclosed any names in order to protect the privacy and identities of the persons involved. God is my witness that all I have related is the truth.
As an ordained minister for fifteen years, my current ministry is to go into different churches, as led by the Lord, and pray for the work of God there, warfaring against the works of the devil. I love to see people delivered. God has given me a love for fasting and prayer, also.

Reviews
"I found Ruth's book to be insightful, as she recounts many of her personal experiences and confrontations with the powers of darkness through prayer and fasting, and her firm stand and refusal to accept defeat. She is a woman of courage and tenacity in the things of God. The demonic assignments set against the church and the body of Christ as a whole have gone many times unnoticed, and in this book Ruth shares some of the ways that the Lord has used her to expose the tactics of the enemy and how to counterattack to obtain victory!"
Pastor Dick Bernal, Jubilee Christian Center, San Jose, California.
"A terrific hands-on treatment of fasting and prayer, a combination that few Christians practice, or know how to or even why they should do it. I recommend this book for those who really want to give God complete control of their lives."
Bishop Walton F. Mize, Sr., Overseer, Christ Holy Sanctified Church of America, Washington State Jurisdiction

Excerpt
Excerpt from Chapter Three: ENTERING INTO THE BATTLE
"Another time, as I was driving down a street in my city I passed a church. The Lord told me to go into that church, for their ministry had been under heavy attack from witchcraft. So, I visited the church to speak with the pastor. I told him why God had sent me, and I told him about the witchcraft coming against his church. He agreed and welcomed me there to pray.
I went to the church and began to intercede with fasting and prayer, using the knowledge that God had given me. As a result, the spirit of God began to flow, and the pastor also began flowing under a great anointing. The church began to grow.
Just when we thought everything was okay, more witches and warlocks started coming to the church. One Sunday morning, I walked into the church and got sick to my stomach. Then I broke out in a sweat. I walked out, and the Lord instructed me to go on a twenty-one-day fast.
I called the pastor the next day and told him that I would be home fasting and conducting warfare for twenty-one days because the witches had gotten reinforcements. The pastor agreed. He said that after he would preach, he'd feel very drained. This meant that the evil power had gotten stronger. He also said that he'd sleep for twelve hours every night and would still have to fight to get out of bed. I told him not to tell anyone where I was, or what I was doing. I wanted the witches and warlocks to think that they had run me off.
While praying at home, the Lord showed me visions and instructed me how to pray and how to speak to the demonic forces that were carrying out the witchcraft against the pastor and the church. I prayed as follows:
"You demons of witchcraft, curses and spells, in the name of Jesus, your powers and strength are destroyed, and from this day forth, you shall not touch or hinder Pastor__________or___________Church." I sealed the words with the blood of Jesus. Then, I would pray in my heavenly language and continue praying until I got a complete breakthrough. I did this for twenty-one days, singing praises and glorifying God.
After completing the twenty-one day fast, I walked into Pastor_______'s office. He was glowing, bubbly and full of joy. And, he said, "Sister, come here. Let me tell you what the Lord has done." He said that all the witches that he was aware of, had left the church, except for one. And, that she had repented and confessed. He also said that he had been receiving revelation knowledge, after revelation knowledge, after revelation knowledge. This minister is now pastoring four to five thousand members.
The Lord led me into warfare against witches and attacks upon several other churches, that I will not discuss at this time. But, in the experience of engaging in warfare, I learned how to fight against the strong demons assisting the witches and warlocks.
"For the weapons of our warfare are not carnal, but mighty through God to the pulling down of strongholds." (2 Corinthians 10:4)

How to Order
Price: $7.95 or less
Local Book Store

By Phone

Can be ordered from your local Christian book store and other places with the following information:Publisher: Impac Christian Books, 332 Leffingwell Ave. Suite 101, Kirkwood, MO 63122Title: Destroying the Works of Witchcraft through Fasting and Prayer by RUTH BROWN.

ISBN: 0-89228-110-3

Call 1-800-451-2708

(Visa, MasterCard or Discover)

Title: Destroying the Works of Witchcraft through Fasting and Prayer

Below are some other reviews of the book.

Jesus' anointing is upon this book., Reviewer from Mississippi USA This is a book written for Christians and is great for the beginner as well as the more mature, experienced Christian. This day and time we need to expose the enemy for what and who he is. This book not only exposes him but shows that Jesus is more powerful. Some of the other books on witchcraft and exposing Satan only seem to show him as more powerful than Jesus. Although he has power - Jesus is more powerful and we need to know that there are weapons we as Christians can use to fight him.

INCREDIBLE TRUTHS! WORTH THE PRICE!, Reviewer: auntlisa from california I MARRIED A SATANIST! I EXPERIENCED MANY THINGS LIKE THE AUTHOR OF THIS BOOK. THERE IS MUCH MORE TO SPIRITUAL WARFARE THAN PEOPLE LIKE TO THINK. FASTING IS NOT AN OPTION TO A CHRISTIAN....IT IS NECESSARY! THIS BOOK COMPARES IT WITH A NECULAR BLAST! AS COMPARED TO JUST PRAYER WITHOUT FASTING....TO JUST THROWING BULLETS AT THE DEVIL. FACE IT PEOPLE, THE WITCHES AND WARLOCKS KNOW THE POWER OF FASTING.......ITS TIME THE CHURCH WORLD WOKE UP AND DID THE SAME! I HAVE EXPERIENCED DEMONS TALKING THROUGH MY HUSBAND, AND GROWLING THROUGH MY SON! GOD CALLED ME INTO FASTING FOR THREE DAYS WITH NO FOOD OR WATER ALSO! THE TRUTH IS WE HUMANS ARE POWERLESS AGAINST DEMONS WITHOUT THE POWER OF GOD. WHEN WE FAST AND PRAY....GOD BREAKS THE BONDAGES AND SETS THE CAPTIVES FREE. I ALSO COME FROM A FAMILY OF WITCHCRAFT PASSED DOWN FROM BOTH SIDES OF MY FAMILY. THANK GOD FOR PEOPLE WHO ARE WILLING TO EXPOSE SATAN FOR THE LIAR HE IS. THE BIBLE PLAINLY SAYS HE COMES TO STEAL, KILL AND DESTROY. WITCHES AND WARLOCKS ALREADY KNOW THE POWER OF FASTING, ITS TIME THE PEOPLE OF GOD KNEW IT TOO.MY THANKS TO RUTH FOR WRITING THE BOOK! ITS INSPIRED ME SOOO MUCH!P.S THIS BOOK DOES NOT BASH THE PEOPLE INVOLVED IN WITCHCRAFT....ONLY EXPOSES THE SPIRTS BEHIND IT!

What A Revelation, Reviewer: from Boston, MA A book to bring you into the knowledge of how witchcraft is very present in the church and to teach you how to fight, fast and pray against the work of witchcraft in the church, ministry, home or other places that we may not think where it's operating.

GOD IS GOOD, NOT WITCHCRAFT, Reviewer: A reader from ALBANY, NY THE BOOK IS VERY GOOD AND PROVIDES SOME PRACTICAL POINTERS REGARDING THIS INFLAMMATORY SUBJECT.

DESTROYING THE WORKS OF WITCHCRAFT IS GOOD, Reviewer: A reader from COLUMBUS, OH I WOULD REFER THIS BOOK TO ANYONE CHRISTIAN OR NOT. WITCHCRAFT IS A CLEAR VIOLATION OF GOD'S WILL AND PURPOSE. RUTHIE IS VERY KIND IN THAT SHE ADVOCATES IN HER BOOK THE DESTRUCTION OF THE WORKS OF WITCHCRAFT, NOT THE WITCH. THE WICCED WICKED WICCA WITCH NEEDS TO BE BORN AGAIN.

FRESH AIR: THE BEST [money] I'VE EVER SPENT !, Reviewer: A reader from NASHVILLE, TN RUTHIE'S BOOK ... IS A BREATH OF FRESH AIR. IT IS THE BEST [money]THAT I HAVE EVER SPENT. IT'S ALOT CHEAPER THAN A BOILING CAULDRONFILLED WITH NEWTS EYES, BATS WINGS, AND FROGS LEGS. THE AUTHOR ACTUALLY HONESTLY SHARES HER EXPERIENCES AND YOU CAN CHOOSE TO BENEFIT OR REJECT THE INFO. IT IS CLEAR THAT UNLIKE OTHER REVIEWERS I ENCOURAGE OTHERS TO DECIDE FOR THEMSELVES. LOVE & PEACE

DIVERSITY OF OPINION IS BEAUTIFUL, Reviewer: A reader from HOUSTON, TX I LOVED RUTHIE BROWN'S BOOK. IT REALLY HELPED ME HELP MY BROTHER WHO WAS A SATAN Worshiper. THE PRAYER IN RUTHIE'S BOOK WAS VERY HELPFUL IN HELPING HIM GET FREE OF DRUGS, SEX AND ROCK 'N ROLL. HE IS NOW MARRIED WITH CHILDREN AND LOVES THE LORD JESUS CHRIST. HE IS AT PEACE AND HAPPY. PRAISE GOD AND THANK YOU RUTHIE.

EXTREMELY PROFOUND INSIGHTS IN RUTHIE'S BOOK, Reviewer: A reader from BOSTON, MA Ruthie's book is simply true. It is devoid of the usual suspects and cuts it right to the chase. It is quite obvious that she loves the persons who practice sin, but like God advises us, Ruthie hates the sin of witchcraft. Ruthie's book is happily devoid of the usual smoothly embellished mis and disinformation and OPENLY shares her experiences which will empower us to walk free of fear and ignorance. My years in Ivy League institutions have sensitized me to the sweet sounds of the true. Ruthie reveals pure and simple truth.

ONLY A HIT WITCH SCREECHES, Reviewer: DON'T WORRY BE HAPPY from NEW YORK I PERSONALLY KNOW THE AUTHOR FOR MANY YEARS. SHE IS A VERY LOVING PERSON. HER BOOK DOES NOT SPEAK TO DESTROYING WITCHES PERSONALLY, BUT RATHER THE DESTRUCTION OF THEIR WORKS. THE LOW PRICE OF THE BOOK SHOULD MAKE IT APPARENT THAT SHE IS CLEARLY NOT IN IT FOR THE MONEY, DUHHH. LASTLY, THE GUILTY FLEE WHEN NO MAN PURSUES. SO IN THE NAME OF JESUS I PRAY THAT JEHOVAH WILL LET YOU SEE YOURSELF AS JEHOVAH SEES YOU. RUTHIE LOVES YOU, BUT HATES YOUR SIN. GOD BLESS YOU NOW IN THE NAME OF JESUS BEFORE WHOM YOU WILL BOW AND CONFESS THAT HE IS LORD OF ALL.


You can download and listen to my book one track at a time by clicking on the track link below.

WITCHCRAFT LUST
Ministers, it is very important to take the mask off of your face, especially if you are doing something for the Kingdom, and it is concerning winning souls. You must take the mask off of your face and be honest with yourself and deal with the lust in you.   Lust is a evil spirit.   Some people say that christians can't have demons.  I don't care what they say.  Lust is a evil spirit and it is not coming from the outside.  The bible says evil thoughts and evil comes out of the heart.  You will have to have that evil thought, which is the characteristic of satan, cast out of your soulish heart and get rid of that lust so you won't become a victim of a Jezebel spirit.  If not, a lot of pastors and evangelists (men and women) have been brought down through witchcraft sex.   Satan will send a Jezebel spirit that operates through men and women full of lust and will shoot an arrow at  the lust in you.  All they have to do is shake your hand,  look you in the eye, or touch you to transfer a spirit that will hook onto the lust in you.  The spirit of Jezebel will begin to chant or meditate or other mediums and you will begin to be drawn to someone heavily that you may not care for.  Many marriages are broken up through this.  Many pastors have been taken down off of the ministry because of this.  Because they refuse to humble themselves and take the mask off and say I have a problem and it is lust and I need to get rid of it.  Satan is going to send the enemy after your weakness.  You will always be brought down through your weakness that is in you.  It is time to clean house.  It is time to do a spiritual house cleaning.  Your natural house may be clean but your spiritual house may be filthy.  So the lust, perversion, and not only that, but we need to get clean of everything.  Fraud, lying, backbiting, gossiping, hatred, manipulation, competition, jealousy, envy, and strife and so on.  We need to get rid of all of that and do a cleaning of your house so that Christ can walk in the fruits of the spirit.  I have worked on myself over and over and am still searching to make sure that anything doesn't get in my heart so that Christ can dwell there in His fullness.    This is so I can walk in love.  
Love feels so good...
GOD BLESS YOU IN JESUS
MOTHER RUTH BROWN  
RUTH BROWN WENT TO BE WITH THE LORD JESUS ON JUNE 24, 2016.

JESUS IS THE DELIVERER
THERE IS NO HATE, MALICE, RACISM, ETC. ON THIS SITE. THESE ARE SINS IN THE EYES OF GOD, AND ARE ALSO DEMONS. THE BIBLE MAKES IT CLEAR THAT SIN CANNOT GET INTO HEAVEN.