THE BLOOD OF JESUS CLEANSES YOU FROM ALL SIN AND GUILT (1 JOHN 1:7). JESUS IS THE DELIVERER!!

DEMONBUSTER.COM
DELIVERANCE MANUAL

OUR MAIN PAGE IS AT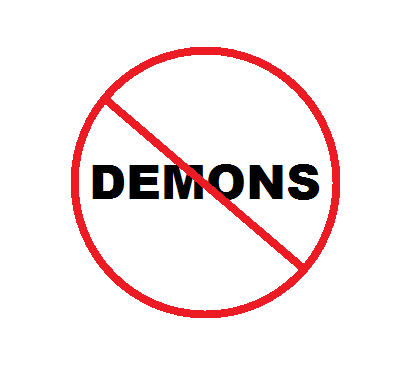 NO DEMONS ALLOWED

SABBATH

Is the SABBATH Saturday?
Is the SABBATH Sunday?
Based on history prior to Jesus walking the earth, the Jews honored the SABBATH on Saturday.
When the Jews started to be persecuted by the Romans, the Believers started having "church" on Sunday, so the Romans would know that they were not Jews, who met on Saturday.
The catholic church was instrumental in making Sunday the day of "church".
The word SABBATH means REST. There are Scriptures showing that Jesus did not keep the SABBATH, as it was taught by the religious leaders of that day. Remember Jesus healed the sick and also picked corn to eat on the SABBATH.
Wilson's Dictionary of Bible Types by Walter Lewis Wilson says:
"SABBATH - Col. 2:16 (a) The sabbath day is a shadow and a type of the perfect REST which every sinner finds in Christ Jesus when he ceases to work for his own salvation and trusts the Saviour to blot out all his sins, redeem his soul, bring forgiveness, give him eternal life, and make him a child of God. Immediately this friend RESTS in the Lord and begins to keep the true sabbath. This same thought is found also in Heb. 4:9 (margin) where the REST which the Lord gives to the trusting soul is compared to the sabbath of the Old Testament. In those days, Israel came to the seventh day, and then RESTED. In our day, the Lord Jesus says, "Come unto Me, and I will give you REST." He is the true sabbath, and He is our sabbath."
So you see, the SABBATH is Jesus. For the Believer, He is our REST, not Saturday or Sunday, but every day.
Colossians 2:16 - Therefore let no one sit in judgment on you in matters of food and drink, or with regard to a feast day or a New Moon or a SABBATH.
Hebrews 4:9 - So then, there is still awaiting a full and complete SABBATH-rest reserved for the [true] people of God

JESUS IS THE DELIVERER
DON'T STOP HERE! SEE OUR INDEX FOR MORE ARTICLES.
THERE IS NO HATE, MALICE, RACISM, ETC. ON THIS SITE. THESE ARE SINS IN THE EYES OF GOD, AND ARE ALSO DEMONS. THE BIBLE MAKES IT CLEAR THAT SIN CANNOT GET INTO HEAVEN.