THE BLOOD OF JESUS CLEANSES YOU FROM ALL SIN AND GUILT (1 JOHN 1:7). JESUS IS THE DELIVERER!!

DEMONBUSTER.COM
DELIVERANCE MANUAL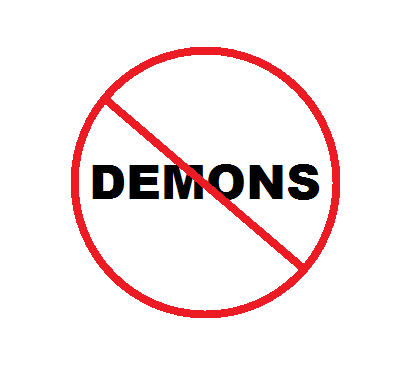 NO DEMONS ALLOWED

REAL SALVATION!
YOU MAY NOT BE SAVED!

To receive the help and apply what you are about to read, you must be a "TRUE WORSHIPER" (John 4:23) or "real Christian". First of all, what is a "TRUE WORSHIPER"? A "TRUE WORSHIPER" is a person who follows the teachings of JESUS CHRIST, AND acts like Him. Do you fit the definition? Would JESUS smoke, drink, cuss, sleep around, beat up family members, take drugs, lie, cheat, etc.? Would Jesus say you don't need DELIVERANCE? I don't think so. Don't base "Christianity" on the people you know who CALL THEMSELVES "Christian", but act like the world.

THIS MEANS YOU MAY NOT BE SAVED! If you believe "once Saved, always Saved", also known as "eternally Saved", you believe a lie from the devil. Remember the devil's plan - to kill, steal, and destroy. He wants to get as many as possible to make it to his FUTURE "home".
You ARE eternally saved IF there is no sin in your life the instant you die.
Among others, Revelation 21:8 says "liars" CANNOT go to Heaven. Told any lies?
Among others, I Corinthians 6:9 says "thieves" CANNOT go to Heaven. Stole anything?
A liar is a liar, and a thief is a thief, whether you call yourself a "Christian" or not. What makes you think you are exempt from sin? You're not! Unless you repent, the sin stays.
The whole point is sin CANNOT get into Heaven.
Still don't believe the Scriptures? How about Hebrews 10:26
"For if we go on DELIBERATELY and WILLINGLY SINNING AFTER once acquiring the knowledge of the Truth, there is no longer any sacrifice left to atone for [our] sins [no further offering to which to look forward]."
Hebrews 10:27 - "[There is nothing left for us then] but a kind of awful and fearful prospect and expectation of divine judgment and the fury of burning wrath and indignation which will consume those who put themselves in opposition [to God]."
The clincher is Romans 11:22 saying that, you "Christian", can backslide --"Then note and appreciate the gracious kindness and the severity of God: severity toward those who have fallen, but God's gracious kindness to you--PROVIDED YOU CONTINUE IN HIS GRACE AND ABIDE IN HIS KINDNESS; otherwise YOU TOO WILL BE CUT OFF (pruned away)."
If you believe once saved, always saved, or eternal salvation, WHO are the above Scriptures talking about? YOU! Not the unsaved, because they are already doomed without Jesus.
JESUS did die for ALL, but you aren't Saved unless you do something. We're not talking about "works", but what you must DO is ask Jesus into your life and forgive you of all your sins. It's not that the SINNER cannot go to Heaven, but that SIN cannot go to Heaven!
If I am wrong, you go to Heaven.
If you are wrong, you go to hell.
Why take the chance when, after "slipping", you need only to say, "Father, in the name of JESUS, I ask you to forgive me for ..."
King David was referred to as a "man after God's own heart". That's because, when confronted with his sin, he confessed and repented of the sin.
AS LONG AS THERE IS NO SIN IN YOUR LIFE WHEN YOU DIE, you are assured to go to Heaven and not hell. The demons DO NOT leave just because you get saved. If you were totally set free when you got saved, you received a very special Miracle from God. Thank Him for it daily. If you still have your problem, you still have the demons. Every time you slip up, immediately say, "Father, in JESUS' name forgive me for sinning." He will!
THINK YOU ARE HEAVEN BOUND??

I Corinthians 6:9-10 - "Do you not know that the unrighteous and the wrongdoers WILL NOT inherit or have any share in the Kingdom of God? Do not be deceived (misled): neither the impure and immoral, nor idolaters, nor adulterers, nor those who participate in homosexuality, nor cheats (swindlers and thieves), nor greedy graspers, nor drunkards, nor foul-mouthed revilers and slanderers, nor extortioners and robbers will inherit or have any share in the Kingdom of God.
REVELATION 21:8 - But as for the cowards and the ignoble and the contemptible and the cravenly lacking in courage and the cowardly submissive, and as for the unbelieving and faithless, and as for the depraved and defiled with abominations, and as for murderers and the lewd and adulterous and the practicers of magic arts and the idolaters (those who give supreme devotion to anyone or anything other than God) and all LIARS (those who knowingly convey untruth by word or deed)--[all of these shall have] their part in the lake that blazes with fire and brimstone. This is the second death." 1+1 = NO SIN CAN GET TO HEAVEN!!
If you want to insure you are going to Heaven, it is as simple as saying this prayer, but you must be sincere and "...continue in His grace..." (Romans 11:22):
JESUS, COME INTO MY LIFE. FORGIVE ME OF ALL MY SINS. I REPENT LORD. FILL ME WITH THE HOLY SPIRIT. WITH YOUR HELP, I WILL "STOP SINNING" (John 5:14). NOW GET SOME DELIVERANCE.
God INVITES everyone to come to Heaven.
God does not SEND anyone to Heaven.
God does not SEND anyone to Hell.
Each individual chooses Heaven or Hell.
To choose Hell, do nothing.
To choose Heaven, say the above sinners prayer (or similar one).

JESUS IS THE DELIVERER
DON'T STOP HERE! SEE OUR INDEX FOR MORE ARTICLES.
THERE IS NO HATE, MALICE, RACISM, ETC. ON THIS SITE. THESE ARE SINS IN THE EYES OF GOD, AND ARE ALSO DEMONS. THE BIBLE MAKES IT CLEAR THAT SIN CANNOT GET INTO HEAVEN.