-- This is NOT the website of Gene Moody. It is the website of DEMONBUSTER.COM.

THE BLOOD OF JESUS CLEANSES YOU FROM ALL SIN AND GUILT (1 JOHN 1:7).
JESUS IS THE DELIVERER!!

DEMONBUSTER.COM
GENE AND EARLINE MOODY
DELIVERANCE MANUAL

MAIN PAGE IS AT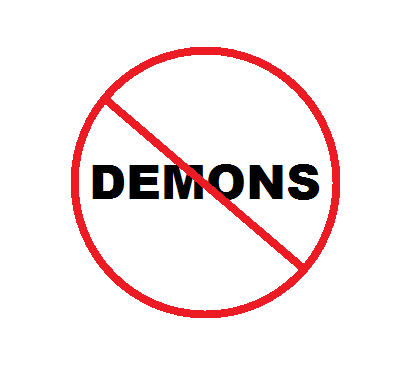 NO DEMONS ALLOWED

SATANISM

TABLE OF CONTENTS
SAMPLES OF RULES
CHARACTERISTICS OF SATANISM
REFERENCE
SAMPLES OF RULES
1. Secrecy is the keynote for all Satanists. They must never reveal the whereabouts of the temples to an outsider or the things that go on inside the temple.
2. All must love, honor, and obey without question the chief Satanist, who is Lucifer's representative on the earth. Satanists must follow Satan all the days of their life and serve no other but him.
3. Satanists must never enter a Christian church unless sent in to spy by the chief Satanist at the temple of Satan.
4. Satanists must never read the Holy Bible for their own edification.
5. The Holy Scriptures are to be mocked and burned in the Satanists' ;temple, also prayer books and hymn books - in fact, all Christian literature must be destroyed. (This order dates back centuries in contrast, various old writings by ancient chiefs are carefully preserved. Revelations from Hades, demons, and gods are often read in ritual worship in the temples of Satan.)
6. No one must arrive late at the temple. Punishment by whipping will be carried out on all latecomers by the chief Satanist in front of the whole congregation.
7. Lucifer must be highly esteemed in all situations, even while at work or in private. Lucifer sees, as he is with Satanists always, and he must be obeyed. Lying, cheating, swearing, free lust - even murder -are condoned.
8. Prayer to Lucifer must be made daily.
9. There are many more rules.
CHARACTERISTICS OF SATANISM
This is the most ancient order of Satanism in the world. The name is Satan or Diablos. Search for talent and potential members was energetically pursued. All kinds of people are Satanists. It is a kind of brainwashing.
Satan is the god of darkness, death and mystery. In olden times there was power from Lucifer to perform operations using no drugs with no scar remaining. There was power to go into deep trances and see powerful activity in the demon sphere. Extra sensory perception was used to read people's minds. They were given supernatural strength and endurance.
Witchcraft of the black kind is not far removed from Satanism. Black witches have great power. They are able to call powers of darkness to aid them. They exhume fresh graves and offer the bodies in sacrifice to Satan. Black witches have power to put curses on people which work. They lose their reason, often going completely insane.
There are evil and ugly orgies in the Satanists' temple. All meetings included awful scenes of perverted sexual acts. Many black witches were lesbians or homosexuals. Sadism was practised frequently. They could cut themselves with knives and feel no pain. Some swallowed poison and felt no ill effects.
Demons aided in levitation above the floor. Birds are killed in flight. Objects are made to appear and disappear. Apport is used to demonstrate witchcraft powers causing an object to appear. They can make themselves invisible. The new face of witchcraft is prosperous but conceals tremendous forces of evil. Voodoo is practiced by black and white witches.
REFERENCE
From Witchcraft To Christ by Doreen Irvine

JESUS IS THE DELIVERER