THE BLOOD OF JESUS CLEANSES YOU FROM ALL SIN AND GUILT (1 JOHN 1:7). JESUS IS THE DELIVERER!!

DEMONBUSTER.COM
DELIVERANCE MANUAL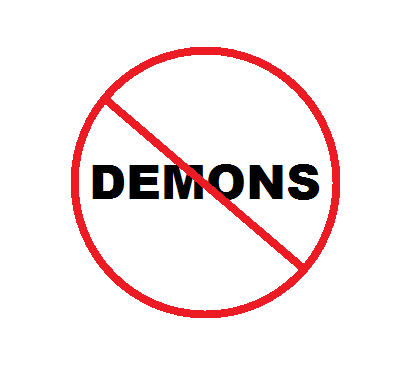 NO DEMONS ALLOWED

SICKNESS: WHY ARE WE SICK?

1. Because of sins of the fathers, iniquities and our own sins.
2. As we understand more about the demons we know that sickness and disease is caused by demons. We have a sickness or disease we do DELIVERANCE on it. We then pray for healing and a miracle.
3. If we have done the above and there is no manifestation of healing then we go to the doctor.
4. However, when we first started DELIVERANCE we know that the demons try us to see if we believe, are serious, and to try to make us give up and not understand our authority in the Name of JESUS. When we are just dealing with demons of rejection, fear, etc. we don't necessarily have a manifestation immediately but it seems to be easier to believe that the demons are gone. With sickness we believe that we must have a manifestation or we are not healed.
5. To be successful with healings we must keep on with the DELIVERANCE and maybe even fast. (This kind goes out by prayer and fasting). The demons are trying us and we are not being overcomers because of the physical realm that we are dealing with instead of just the spiritual.
6. For example, we cast out fear. Then the next day we are not afraid. But if the demons come back we just cast it out again. It is just easier to believe. But with the physical we need more faith and patience. I believe we can be overcomers in this area when we fast and pray and cast out the demons. Maybe this is the KIND that comes out by prayer and fasting.
7. We have also learned that some of the things we eat can make us sick. For example: too much sugar, fat, etc. can harm our body and cause sickness or disease. We know that we do not get enough vitamins, minerals and nutrients in the food we eat today, so we take supplements which can help to keep us healthy. Don't forget to exercise.

JESUS IS THE DELIVERER
DON'T STOP HERE! SEE OUR INDEX FOR MORE ARTICLES.
THERE IS NO HATE, MALICE, RACISM, ETC. ON THIS SITE. THESE ARE SINS IN THE EYES OF GOD, AND ARE ALSO DEMONS. THE BIBLE MAKES IT CLEAR THAT SIN CANNOT GET INTO HEAVEN.