-- This is NOT the website of Gene Moody. It is the website of DEMONBUSTER.COM.

THE BLOOD OF JESUS CLEANSES YOU FROM ALL SIN AND GUILT (1 JOHN 1:7).
JESUS IS THE DELIVERER!!

DEMONBUSTER.COM
GENE AND EARLINE MOODY
DELIVERANCE MANUAL

MAIN PAGE IS AT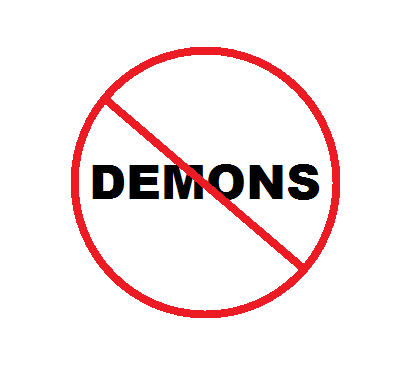 NO DEMONS ALLOWED

SIN

PREFACE
The Scriptures clearly show that sin is a disease afflicting the whole human race.
1. Actually, according to Scripture, the origin of sin was before the creation of man; it was not through him, but through Satan.
2. Isa. 14 portrays Satan's fall and ultimate destruction; but a similar passage in Eze. 28:11-19 also refers to Satan, goes beyond the historical king of Tyre and describes the original, unfallen state of Satan, full of wisdom, and perfect in beauty.
3. There are other Scriptures where Satan was addressed indirectly.
4. In Gen. 3 God addressed the serpent, but He was actually talking to Satan.
5. In Matt. 16:23 Jesus addressed Peter, but He spoke beyond him to Satan and said, Get thee behind me, Satan.
6. Jesus also addressed Satan when He said, That thou doest, do quickly, because Satan had entered Judas (John 13:27).
7. The origin of sin in the human race came through man.
NATURE
In both the Old and New Testaments, sin is described under various concepts depicting its many sided nature:
1. Sin is basically rebellion against God, His laws, His Word, and His will.
2. Sin is disobedience to the law of God (I Tim. 1:8-10); to the revealed will of God (Deut. 28); and to one's own conscience - the voice of God within (Rom. 2:15).
3. Sin is unrighteousness.
4. Sin is falling short of or missing the mark.
5. Sin is wickedness or a perversion of what is right, which stems from the fact that man, outside of Christ, has a perverted, crooked, twisted inner nature.
6. Sin also means to commit iniquity or to do wrong.
OBJECT
Who is the object of sin; that is, against whom does man sin?
1. Sin is an offense against God.
2. Sin is committed against man or against one's neighbor. 3.Sin is against one's self.
UNIVERSALITY
The entrance of sin into the cosmos had universal consequence affecting both heaven and earth.
1. Sin caused the downfall of the non-elect angels (II Pet.
2:4; Matt. 25:41).
2. Its effect was upon the whole human race.
3. Sin's effect is also seen upon nature.
CONSEQUENCES
Consequences of sin are:
1. One of the consequences of sin is alienation from God (Gen. 3).
2. Both physical death and spiritual alienation were the consequences of their disobedience.
3. Moral and spiritual defilement are also consequences of sin.
4. The works of the flesh are also described in Gal. 5:19-21 as being totally evil.
5. According to Rom. 6, another consequence of sin is man's bondage to sin and to Satan.
6. A further consequence of sin is that man is under the curse of the law, which brings eternal death (Gal. 3:10; Deut. 28).
EXTENT
What is the extent of sin's effect upon man?
1. Rom. 3 shows that man is totally depraved until he has been redeemed by Jesus Christ.SIN

JESUS IS THE DELIVERER