THE BLOOD OF JESUS CLEANSES YOU FROM ALL SIN AND GUILT (1 JOHN 1:7). JESUS IS THE DELIVERER!!

DEMONBUSTER.COM
DELIVERANCE MANUAL

OUR MAIN PAGE IS AT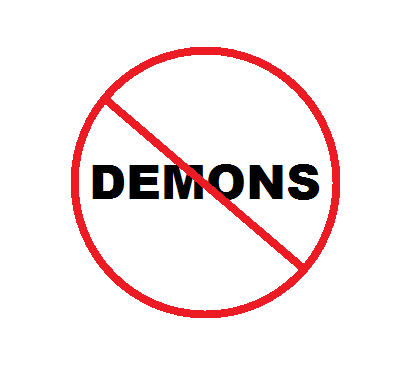 NO DEMONS ALLOWED

SO THIS DEMON SAYS...

Anyone in a DELIVERANCE MINISTRY will tell you that no matter what country you are in, demons always have the same lines.
1. "Christians can't have demons" is the one used the most.
2. "Light and darkness cannot dwell in the same temple.", or words to that effect, I think is the next most used. You will not be able to find that statement in the Bible, because it was invented by a demon.
3. "Turn off that music." When playing "Oh the Blood of JESUS" out loud is one.
4. "Oppressed" by demons is a term that is thrown around in the Charismatic circles because they don't believe Christians can have demons INSIDE.
5. "Show me in the Bible..." is another. Since we are not to argue the Bible (and I do not), I would say, "show me in the Bible where it says Christians CANNOT have demons".
6. "You must have a covering." We have an article on this one.
7. "TOUCH NOT MINE ANOINTED." We have an article on this one.

JESUS IS THE DELIVERER
DON'T STOP HERE! SEE OUR INDEX FOR MORE ARTICLES.
THERE IS NO HATE, MALICE, RACISM, ETC. ON THIS SITE. THESE ARE SINS IN THE EYES OF GOD, AND ARE ALSO DEMONS. THE BIBLE MAKES IT CLEAR THAT SIN CANNOT GET INTO HEAVEN.