This is NOT the website of Gene Moody. It is the website of DEMONBUSTER.COM.

THE BLOOD OF JESUS CLEANSES YOU FROM ALL SIN AND GUILT (1 JOHN 1:7).
JESUS IS THE DELIVERER!!

DEMONBUSTER.COM
GENE AND EARLINE MOODY
DELIVERANCE MANUAL

MAIN PAGE IS AT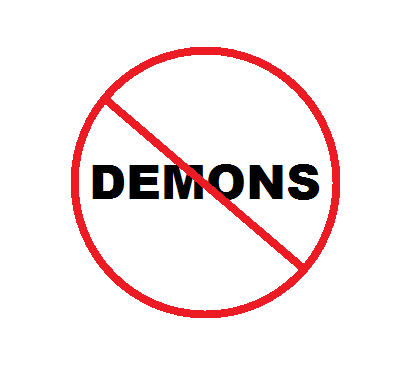 NO DEMONS ALLOWED

SPIRITUAL WARFARE SCRIPTURE

SPIRITUAL WARFARE SCRIPTURE
             ATTACK - ATTACK - ATTACK
             TABLE OF CONTENTS
4.          GIFTS, FRUITS AND SIGNS
1. Nine Gifts of The Holy Spirit
2. Nine Fruits of The Holy Spirit
3. Five Signs of The Holy Spirit
5.          SUPERNATURAL POWER
6.          GREATER AND BIG SEVEN
1. The Greater Seven
2. The Big Seven
7.          PROMISES OF ALMIGHTY GOD
8.          CONFESSION
2. Psalm 23
3. Psalm 91
4. Psalm 121
9.          SPIRITUAL WARFARE: GROUND, OCCULT AND TERRITORIAL
             1. Ground and Occult Warfare
             2. Territorial  Warfare
10.DECLARATION AGAINST EVIL
11.        JESUS CHRIST CAME TO DESTROY THE WORKS OF THE DEVIL
12.        SPIRITUAL WARFARE IN THE HEAVENLIES
13.        WARRING AGAINST FORCES OF EVIL
   1.  Fear in Our Enemies Hearts
       2. Consuming Fire
   3.  Warriors for Jesus Christ
14.AMERICA
15.TERRORISM
1. Overcoming Chemical, Biological and Nuclear Attacks
19.        BY THIS I OVERCOME THE DEVIL
   2.  Praying For Our Government
21.        REFERENCES
             GIFTS, FRUITS AND SIGNS
             Nine Gifts of The Holy Spirit
I Cor. 12:8-10 For to one is given by THE SPIRIT the word of wisdom; to another the word of knowledge by the same SPIRIT; To another faith by the same SPIRIT; to another the gifts of healing by the same SPIRIT; To another the working of miracles; to another prophecy; to another discerning of spirits; To another divers kinds of tongues; to another the interpretation of tongues.
             Nine Fruits of The Holy Spirit
Gal. 5:22-23 But the fruit of THE SPIRIT is love, joy, peace, long suffering, gentleness, goodness, faith, meekness, temperance: against such there is no law.
             Five Signs of The Holy Spirit
Mark 16:15-20 And he said unto them, Go ye into all the world, and preach the gospel to every creature. He that believeth and is baptized shall be saved; but he that believeth not shall be damned. And these signs shall follow them that believe, In my name shall they cast out devils; they shall speak with new tongues; They shall take up serpents; and if they drink any deadly thing, it shall not hurt them; they shall lay hands on the sick, and they shall recover. So then after THE LORD had spoken unto them, he was received up into Heaven, and sat on the right hand of GOD. And they went forth, and preached every where, THE LORD working with them, and confirming the word with signs following.
             SUPERNATURAL POWER
I Tim. 3:5 Having a form of godliness (piety - true religion), but denying (rejecting - strangers to) the power therof (their conduct belies the genuineness of their profession): from such turn away (avoid).
Matt. 9:8But when the multitude saw it, they marvelled, and glorified GOD, which had given such power unto men.
Mark 3:15And to have power to heal sicknesses, and to cast out devils.
Mark 6:7And he called unto him the twelve, and began to send them forth by two and two; and gave them power over unclean spirits.
Luke 24:49And, behold, I send the promise of my FATHER upon you: but tarry ye in the city of Jerusalem, until ye be endued with power from on high.
John 1:12But as many as received him, to them gave he power to become the sons of GOD, even to them that believe on his name.
Acts 1:8But ye shall receive power, after that THE HOLY GHOST is come upon you: and ye shall be witnesses unto me both in Jerusalem, and in all Judea, and in Samaria, and unto the uttermost parts of the earth.
Acts 4:33And with great power gave the apostles witness of the resurrection of THE LORD JESUS: and great grace was upon them all.
Acts 6:8And Stephen, full of faith and power, did great wonders and miracles among the people.
Rom. 1:16For I am not ashamed of THE GOSPEL OF CHRIST: for it is the POWER OF GOD unto salvation to every one that believeth; to the Jew first, and also to the Greek.
I Cor. 2:4-5And my speech and my preaching was not with enticing words of man's wisdom, but in demonstration of THE SPIRIT and of power: That your faith should not stand in the wisdom of men, but in THE POWER OF GOD.
I Cor. 4:19-20But I will come to you shortly, if THE LORD will, and will know, not the speech of them which are puffed up, but the power. For the KINGDOM OF GOD is not in word, but in power.
I Cor. 9:18What is my reward then? Verily that, when I preach the gospel, I may make THE GOSPEL OF CHRIST without charge, that I abuse not my power in the gospel.
II Cor. 13:10Therefore I write these things being absent, lest being present I should use sharpness, according to the power which THE LORD hath given me to edification, and not to destruction.
Eph. 3:20Now unto him that is able to do exceeding abundantly above all that we ask, or think, according to the power that worketh in us.
I Thes. 1:5For our gospel came not unto you in word only, but also in power, and in THE HOLY GHOST, and in much assurance; as ye know what manner of men we were among you for your sake.
II Thes. 3:9Not because we have not power, but to make ourselves an ensample unto you to follow us.
II Tim. 1:7For GOD hath not given us the spirit of fear; but of power, and of love, and of a sound mind.
             GREATER AND BIG SEVEN
             The Greater Seven
Matt. 17:20 And Jesus said unto them, Because of your unbelief: for verily I say unto you, If ye have faith as a grain of mustard seed, ye shall say unto this mountain, Remove hence to yonder place; and it shall remove; and nothing shall be impossible unto you.
Mark 9:23 Jesus said unto him, If thou canst believe, all things are possible to him that believeth.
Mark 11:24 Therefore I say unto you, What things soever ye desire, when ye pray, believe that ye receive them, and ye shall have them.
John 14:12 Verily, verily, I say unto you, He that believeth on me, the works that I do shall he do also; and greater works than these shall he do; because I go unto my Father.
John 14:14 If ye shall ask anything in my name, I will do it.
John 15:7 If ye abide in me, and my words abide in you, ye shall ask what ye will, and it shall be done unto you.
John 15:16 Ye have not chosen me, but I have chosen you, and ordained you, that ye should go and bring forth fruit, and that your fruit should remain: that whatsoever ye shall ask of the Father in my name, he may give it you.
             The Big Seven
Matt. 5:48 Be ye therefore perfect, even as your Father which is in Heaven is perfect.
Matt. 10:25 It is enough for the disciple that he be as his master, and the servant as his lord. If they have called the master of the house Beelzebub, how much more shall they call them of his household?
Luke 6:40 The disciple is not above his master: but every one that is perfect shall be as his master.
Col. 2:6 As ye have therefore received Christ Jesus the Lord, so walk ye in him.
Col. 2:10 And ye are complete in him, which is the head of all principality and power.
I John 2:6 He that saith he abideth in him ought himself also so to walk, even as he walked.
I John 4:17 Herein is our love made perfect, that we may have boldness in the day of judgment: because as he is, so are we in this world.
             PROMISES OF ALMIGHTY GOD
Psa. 107:20 He sent his word, and healed them, and delivered them from their destructions.
Phil. 4:13 I can do all things through JESUS CHRIST which strenghteneth me.
             CONFESSION
             Psalm 23
THE LORD is my shepherd; I shall not want. He maketh me to lie down in green pastures: he leadeth me beside the still waters. He restoreth my soul: he leadeth me in the paths of righteousness for his name's sake. Yea, though I walk through the valley of the shadow of death, I will fear no evil: for thou art with me; thy rod and thy staff comfort me. Thou preparest a table before me in the presence of mine enemies: thou anointest my head with oil; my cup runneth over. Surely goodness and mercy shall follow me all the days of my life: and I will dwell in the house of THE LORD for ever.
             Psalm 91
He that dwelleth in the secret place of the most High shall abide under the shadow of the Almighty. I will say of the LORD, He is my refuge and my fortress: my GOD; in him will I trust. Surely he shall deliver thee from the snare of the fowler (cunning devices of Satan), and from the noisome pestilence. He shall cover thee with his feathers, and under his wings shalt thou trust (shielded by the force field of GOD's presence): his truth shall be thy shield and buckler. Thou shalt not be afraid for the terror by night (secret invasion); nor for the arrow (rocket, missile) that flieth by day; Nor for the pestilence that walketh in darkness (germ warfare); nor for the destruction that wasteth at noonday (atomic warfare). A thousand shall fall at thy side, and ten thousand at thy right hand; but it shall not come nigh thee (supernatural protection). Only with thine eyes shalt thou behold and see the reward of the wicked. Because thou hast made the LORD, which is my refuge, even the most High, thy habitation; There shall no evil befall thee, neither shall any plague come nigh thy dwelling. For he shall give his angels charge over thee, to keep thee in all thy ways (angels surrounding us). They shall bear thee up in their hands, lest thou dash thy foot against a stone. Thou shalt tread upon the lion (Satan as a roaring lion) and adder: the young lion and the dragon shalt thou trample under feet (Satan, evil angels and demons). Because he hath set his love upon me, therefore will I deliver him; I will set him on high, because he hath known my name. He shall call upon me, and I will answer him; I will be with him in trouble; I will deliver him, and honour him. With long life (resurrection life) will I satisfy him, and shew him my salvation (deliverance and triumphant victory).
             Psalm 121
I will lift up mine eyes unto the hills, from whence cometh my help. My help cometh from THE LORD, which made heaven and earth. He will not suffer my foot to be moved: he that keepeth thee will not slumber. Behold, he that keepeth Israel shall neither slumber nor sleep. THE LORD is my keeper: THE LORD is thy shade upon thy right hand. The sun shall not smite thee by day nor the moon by night. THE LORD will preserve thee from all evil: he shall preserve thy soul. THE LORD shall preserve thy going out and thy coming in from this time forth, and even for evermore.
             SPIRITUAL WARFARE: GROUND, OCCULT AND TERRITORIAL
             Ground and Occult Warfare
Josh. 1:7-9 Only be thou strong and very courageous, that thou mayest observe to do according to all the law, which Moses my servant commanded thee: turn not from it to the right hand or to the left, that thou mayest prosper whithersoever thou goest.
Prov. 28:13 He that coverith his sins shall not prosper: but whoso confesses and forsaketh them shall have mercy.
Matt. 16:23 But he turned, and said unto Peter, Get thee behind me, Satan: thou art an offence unto me: for thou savourest not the things that be of GOD, but those that be of men.
Matt. 17:18-19 & 21 And JESUS CHRIST rebuked the devil and he departed out of him: and the child was cured from that very hour. Then came the disciples to JESUS CHRIST apart, and said, Why could not we cast him out? Howbeit this kind goeth not out but by prayer and fasting.
Matt. 18:32-35 Then his lord, after that he had called him, said unto him, O thou wicked servant, I forgave thee all that debt, because thou desirest me: Shouldest not thou also have had compassion on thy fellow servant, even as I had pity on thee? And his lord was wroth, and delivered him to the tormentors, till he should pay all that was due unto him. So likewise shall my HEAVENLY FATHER do also unto you, if ye from your hearts forgive not everyone his brother their trespasses.
Luke 13:11-17 And, behold, there was a woman which had a spirit of infirmity eighteen years, and was bowed together, and could in no wise lift up herself. And when JESUS CHRIST saw her, he called her to him, and said unto her, Woman, thou are loosed from thine infirmity (demon). And he laid his hands on her and immediately she was made straight, and glorified GOD. And the ruler of the synagogue answered with indignation, because that JESUS CHRIST had healed on the sabbath day, and said unto the people, There are six days in which men ought to work: in them therefore come and be healed, and not on the sabbath day. THE LORD then answered him, and said, Thou hypocrite, doth not each one of you on the sabbath loose his ox or his ass from the stall, and lead him away to watering? And ought not this woman, being a daughter of Abraham, whom Satan hath bound, lo, these eighteen years, be loosed from this bond on the sabbath day? And when he had said these things, all his adversaries were ashamed: and all the people rejoiced for all the glorious things that were done by him.
I Cor. 3:16-17 Know ye not that ye are THE TEMPLE OF GOD, and that THE SPIRIT OF GOD dwelleth in you? If any man defile THE TEMPLE OF GOD, him shall GOD destroy; for THE TEMPLE OF GOD is holy, which temple ye are.
I Pet. 5:8-9 Be sober, be vigilant; because your adversary the Devil, as a roaring lion walketh about, seeking whom he may devour: Whom resist steadfast in the faith knowing that the same afflictions are accomplished in your brethren that are in the world.
I John 2:13-16 I write unto you, fathers, because ye have known him that is from the beginning. I write unto you, young men, because ye have overcome the wicked one. I write unto you, little children, because ye have known THE FATHER. I have written unto you, fathers, because ye have known him that is from the beginning. I have written unto you, young men, because ye are strong, and THE WORD OF GOD abideth in you, and ye have overcome the wicked one. Love not the world, neither the things that are in the world. If any man love the world, THE LOVE OF THE FATHER in not in him. For all that is in the world, the lust of the flesh, and the lust of the eyes, and the pride of life, is not of THE FATHER, but is of the world.
Rev. 20:1-3 And I saw an angel come down from Heaven, having the key of the bottomless pit and a great chain in his hand. And he laid hold on the Dragon, that old serpent, which is the Devil, and Satan, and bound him a thousand years, And cast him into the bottomless pit, and shut him up, and set a seal upon him, that he should deceive the nations no more, till the thousand years should be fulfilled: and after that he must be loosed a little season.
             Territorial Warfare
Zech. 4:6 Then he answered and spake unto me, saying, This is the WORD OF THE LORD unto Zerubbabel, saying, Not by might, nor by power, but by MY SPIRIT, saith THE LORD OF HOSTS.
Matt. 10:1 And when he  had called unto him his twelve disciples, he gave them power against unclean spirits, to cast them out, and to heal all manner of sickness and all manner of disease.
Matt. 12:24-29 But when the Pharisees heard it, they said, This fellow doth not cast out devils, but by Beelzebub the prince of the devils. And JESUS CHRIST knew their thoughts, and said unto them, Every kingdom divided against itself is brought to desolation; and every city or house divided against itself shall not stand: And if Satan cast out Satan, he is divided against himself; how shall then his kingdom stand? And if I by Beelzebub cast out devils, by whom do your children cast them out? therefore they shall be your judges. But if I cast out devils by THE SPIRIT OF GOD, then THE KINGDOM OF GOD is come unto you. Or else how can one enter into a strong man's house, and spoil his goods except he first bind the strong man? and then he will spoil his house.
Matt. 28:18-20 And JESUS CHRIST came and spake unto them saying, All power is given unto me in Heaven and in earth. Go ye therefore, and teach all nations, baptizing them in THE NAME OF THE FATHER, AND OF THE SON, AND OF THE HOLY GHOST: Teaching them to observe all things whatsoever I have commanded you: and, lo, I am with you alway even unto the end of the world.
Mark. 11:22-23 And JESUS CHRIST answering saith unto them, Have faith in GOD. For verily I say unto you, That whosoever shall say unto this mountain, Be thou removed, and be thou cast into the sea; and shalt not doubt in his heart, but shall believe that those things which he saith shall come to pass; he shall have whatsoever he saith.
Luke 9:1-2 Then he called his twelve disciples together, and gave them power and authority over all devils, and to cure diseases. And he sent them to preach THE KINGDOM OF GOD, and to heal the sick.
II Cor. 2:10-11 To whom ye forgive any thing, I forgive also; for if I forgave any thing, to whom I forgave it, for your sakes forgave I it in the person of JESUS CHRIST: Lest Satan should get an advantage of us: for we are not ignorant of his devices.
II Cor. 4:3-4 But if our gospel be hid, it is hid to them that are lost: In whom the god of this world hath blinded the minds of them which believe not, lest the light of the glorious GOSPEL OF JESUS CHRIST, who is the IMAGE OF GOD, should shine unto them.
II Cor. 10:3-6 For though we walk in the flesh, we do not war after the flesh; For the weapons of our warfare are not carnal, but mighty through GOD to the pulling down of strong holds; Casting down imaginations, and every high thing that exalteth itself against THE KNOWLEDGE OF GOD, and bringing into captivity every thought to the obedience of JESUS CHRIST: And having a readiness to revenge all disobedience, when your obedience is fulfilled.
Heb. 1:13-14 But to which of the angels said he at any time, Sit on my right hand, until I make thine enemies thy footstool? Are they not all ministering spirits, sent forth to minister for them who shall be heirs of salvation?
I John. 5:18-19 We know that whosoever is born of GOD sinneth not; but he that is begotten of GOD keepeth himself, and that wicked one toucheth him not. And we know that we are of GOD, and the whole world lieth in wickedness.
             DECLARATION AGAINST EVIL
Ps. 97:10Ye that love THE LORD, hate evil: he preserveth the souls of his saints; he delivereth them out of the hand of the wicked.
Ps. 119:104Through thy precepts I get understanding; therefore I hate every false way.
Ps. 139:21-22Do not I hate them, O LORD, that hate thee? and am not I grieved with those that rise up against thee? I hate them with perfect hatred: I count them mine enemies.
Amos 5:15Hate the evil, and love the good, and establish judgment in the gate: it may be that THE LORD GOD OF HOSTS will be gracious unto the remnant of Joseph (Christians).
             JESUS CHRIST CAME TO DESTROY THE WORKS OF THE DEVIL
Gen. 3:15 And I will put enmity between thee and the woman, and between thy seed and her seed; it shall bruise thy head, and thou shalt bruise his heel.
Luke 10:17-20 And the seventy returned again with joy, saying, LORD, even the devils are subject unto us through thy name. And he said unto them, I beheld Satan as lightning fall from Heaven. Behold, I give unto you power to tread on serpents and scorpions, and over all the power of the enemy: and nothing shall by any means hurt you. Notwithstanding in this rejoice not, that the spirits are subject unto you; but rather rejoice, because your names are written in Heaven.
Luke 11:21-22 When a strong man armed keepeth his palace, his goods are in peace: But when a stronger than he shall come upon him, and overcome him, he taketh from him all his armour wherein he trusted, and divideth his spoils.
Col. 2:15 And having spoiled principalities and powers, he made a shew of them openly, triumphing over them in it.
Heb. 2:14 Forasmuch then as the children are partakers of flesh and blood, he also himself likewise took part of the same; that through death he might destroy him that had the power of death, that is, the Devil.
I John. 3:8 He that committeth sin is of the Devil: for the Devil sinneth from the beginning. For this purpose the SON OF GOD was manifested, that he might destroy the works of the Devil.
             SPIRITUAL WARFARE IN THE HEAVENLIES
Rom. 5:17 For if by one man's offence death reigned by one; much more they which receive abundance of grace and of the gift of righteousness shall reign in life by one, JESUS CHRIST. (See I Pet. 2:5 & 9).
Eph. 1:19-23 And what is the exceeding greatness of his power to us-ward who believe, according to the working of his mighty power, Which he wrought in JESUS CHRIST, when he raised him from the dead, and set him at his own right hand in the heavenly places, Far above all principality, and power, and might, and dominion and every name that is named, not only in this world, but also in that which is to come: and hath put all things under his feet, and gave him to be the head over all things to the church, Which is his body, the fullness of him that filleth all in all.
Eph. 2:6 And hath raised us up together, and made us sit together in heavenly places in CHRIST JESUS.
Rev. 5:10 And hast made us unto our GOD kings and priests: and we shall reign on the earth. (See Rev. 1:6).
             WARRING AGAINST FORCES OF EVIL
             Fear in Our Enemies Hearts
Deut. 28:7THE LORD shall cause thine enemies that rise up against thee to be smitten before thy face: they shall come out against thee one way, and flee before thee seven ways.
Josh. 2:24And they said unto Joshua, Truly THE LORD hath delivered into our hands all the land; for even all the inhabitants of the country do faint because of us.
Prov. 10:24The fear of the wicked, it shall come upon him: But the desire of the righteous shall be granted.
             Consuming Fire
Deut. 4:24For THE LORD THY GOD is a consuming fire, even a jealous GOD.
Deut. 9:3Understand therefore this day, that THE LORD THY GOD is he which goeth over before thee; as a consuming fire he shall destroy them and he shall bring them down before thy face: so shalt thou drive them out, and destroy them quickly, as THE LORD hath said unto thee.
Heb. 12:29For our GOD is a consuming fire.
Psa. 104:4Who maketh his angels spirits; his ministers a flaming fire.
             Warriors for JESUS CHRIST
Psa. 144:1Blessed be THE LORD my strength, which teacheth my hands to war, and my fingers to fight.
Psa. 149:6-9Let the high praises of GOD be in their mouth, and a two-edged sword in their hand: To execute vengeance upon the heathen, and punishments upon the people; To bind their kings with chains, and their nobles with fetters of iron. To execute upon them the judgment written: this honour have all his saints. Praise ye THE LORD.
             AMERICA
II Chron. 7:14 If my people which are called by my name (Christians), shall humble themselves, and pray, and seek my face, and turn from their wicked ways; then will I hear from Heaven, and will forgive their sins, and will heal their land.
Neh. 1:4-7 And it came to pass, when I heard these words, that I sat down and wept, and mourned certain days, and fasted, and prayed before THE GOD OF HEAVEN. And said, I beseech thee, O LORD GOD OF HEAVEN, the great and terrible GOD, that keepeth covenant and mercy for them that love him, and observe his commandments: Let thine ear now be attentive, and thine eyes open, that thou mayest hear the prayer of thy servant, which I pray before thee now, day and night, for the children of Israel (America) thy servants, and confess the sins of the children of Israel (America), which we have sinned against thee: both I and my father's house have sinned. We have dealt very corruptly against thee, and have not kept the commandments, nor the statutes, nor the judgments, which thou commandst thy servant Moses.
Isa. 8:12-14 Say ye not, A confederacy, to all them to whom this people shall say, A confederacy; neither fear ye their fear, nor be afraid. Sanctify the LORD OF HOSTS himself; and let him be your fear, and let him be your dread. And he shall be for a sanctuary; but for a stone of stumbling and for a rock of offence to both the houses of Israel (America), for a gin (trap) and for a snare to the inhabitants of Jerusalem (Washington, D.C.).
Dan. 9:3-6 And I set my face unto THE LORD GOD, to seek by prayer and supplications, with fasting, and sackcloth, and ashes: And I prayed unto THE LORD MY GOD, and made my confession, and said, O LORD, the great and dreadful GOD, keeping the covenant and mercy to them that love him, and to them that keep his commandments; We have sinned, and have committed iniquity, and have done wickedly, and have rebelled, even by departing from thy precepts and from thy judgments: Neither have we hearkened unto thy servants the prophets, which spake in thy name to our kings, our princes, and our fathers, and to all the people of the land.
Matt. 16:18-19 And I say also unto thee, That thou are Peter, and upon this rock I will build my church; and the Gates Of Hell (the powers of the infernal region) shall not prevail against it. And I will give unto thee the keys of the Kingdom of Heaven: and whatsoever thou shalt bind on the earth shall be bound in Heaven: and whatsoever thou shalt loose on earth shall be loosed in Heaven.
1 Tim. 2:1 I exhort therefore, that first of all, supplications, prayers, intercessions, and giving of thanks, be made for all men.
             TERRORISM
             Overcoming Chemical, Biological and Nuclear Attacks
Jer. 17:14Heal me, O LORD, and I shall be healed; save me, and I shall be saved: for thou art my praise.
Matt. 9:29Then touched He their eyes, saying, According to your faith be it unto you.
Luke 4:39And He stood over her, and rebuked (cast out) the fever (demon); and it left her: and immediately she arose and ministered unto them.
Acts 28:8And it came to pass, that the father of Publius lay sick of a fever and of a bloody flux: to whom Paul entered in, and prayed, and laid his hands on him, and healed him.
James 5:14-16Is any sick among you? Let him call for the elders of the church, and let them pray over him, anointing him with oil in the name of the LORD: and the prayer of faith shall save the sick, and the LORD shall raise him up; and if he have committed sins, they shall be forgiven him. Confess your faults one to another, and pray one for another, that ye may be healed. The effectual fervent prayer of a righteous man availeth much.
             BY THIS I OVERCOME THE DEVIL
Psa. 107:2 Let the redeemed of THE LORD say so, whom he hath redeemed from the hand of the enemy.
Rom. 5:9 Much more then, being now justified by his blood, we shall be saved from wrath through him.
I Cor. 6:19-20 What? know ye not that your body is THE TEMPLE OF THE HOLY GHOST which is in you, which ye have of GOD, and ye are not your own? For ye are bought with a price: therefore glorify GOD in your body, and in your spirit, which are GOD's.
Eph. 1:7 In whom we have redemption through his blood, the forgiveness of sins, according to the riches of his grace.
Heb. 13:12 Wherefore JESUS also, that he might sanctify the people with his own blood, suffered without the gate.
I John 1:7 But if we walk in the light, as he is in the light, we have fellowship one with another, and THE BLOOD OF JESUS CHRIST HIS SON cleanseth us from all sin.
Rev. 12:11 And they overcame him by THE BLOOD OF THE LAMB, and by the word of their testimony; and they loved not their lives unto the death.
             Praying For Our Government
1 Tim. 2:1-4 I exhort therefore, that, first of all, supplications, prayers, intercessions, and giving of thanks, be made for all men. For kings, and for all that are in authority; that we may lead a quiet and peaceable life in all godliness and honesty. For this is good and acceptable in the sight of God our Saviour. Who will have all men to be saved, and to come unto the knowledge of the truth.
             REFERENCES
HOLY BIBLE, KING JAMES VERSION

JESUS IS THE DELIVERER
DON'T STOP HERE! SEE DEMONBUSTER.COM INDEX FOR MORE ARTICLES.
THERE IS NO HATE, MALICE, RACISM, ETC. ON THIS SITE. THESE ARE SINS IN THE EYES OF GOD, AND ARE ALSO DEMONS. THE BIBLE MAKES IT CLEAR THAT SIN CANNOT GET INTO HEAVEN.