THE BLOOD OF JESUS CLEANSES YOU FROM ALL SIN AND GUILT (1 JOHN 1:7). JESUS IS THE DELIVERER!!

DEMONBUSTER.COM
DELIVERANCE MANUAL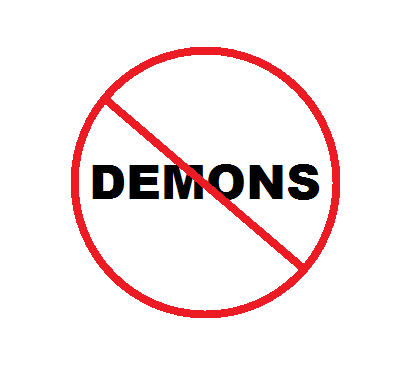 NO DEMONS ALLOWED

STAND - EPHESIANS 6 WARFARE

I was laying in bed with pain in my stomach and a cold with sinus infection. I was awake most of the night repenting and confessing of all iniquities, breaking curses, and casting out demons.
This morning I thought - Nothing seems to work; what's happening; what is the cause of this torment?! After a few moments, the following Scriptures started coming to my mind, and as I thought of the things of the Lord I realized that what I must do now is STAND. I have done everything else, now I must STAND.
Also, during this time, I poured my heart out to the Lord, praying as in verse 18. I got up out of bed to try to eat something light because of my stomach and to take the dreaded medicine. I looked up these scriptures and started typing them for the newsletter and PRAISE GOD!!!!!! My stomach has stopped hurting and my cold is not as bad either. I believe that our Father never gives scriptures to us like that unless it is intended to be used. The enemy would have us believe (deception) that after we have done all and the symptoms are still there then we have not been DELIVERED, healed or received anything from the Lord. My friend, these are the LIES OF SATAN. After having done all, STAND (verse 14). Your miracle, DELIVERANCE, healing, etc. will come.

Ephesians Chapter Six
10) In conclusion, be STRONG in the Lord [be empowered through your union with HIM]; draw your strength from HIM [that strength which HIS boundless might provides].
11) Put on GOD'S whole armor [the armor of a heavy-armed soldier which GOD supplies], that you may be able successfully to STAND up against [all] the strategies and the deceits of the devil.
12) For we are not wrestling with flesh and blood [contending only with physical opponents], but against the despotisms, against [the master spirits who are] the world rulers of this present darkness, against the spirit forces of wickedness in the heavenly (supernatural) sphere.
13) Therefore put on GOD's complete armor, that you may be able to resist and STAND your ground on the evil day [of danger], and having done all [the crisis demands], to STAND [firmly in your place].
14) STAND therefore [hold your ground, having tightened the BELT OF TRUTH around your loins and having put on the BREASTPLATE OF INTEGRITY AND OF MORAL RECTITUDE AND RIGHT STANDING WITH GOD,
15) And having SHOD YOUR FEET in preparation [to face the enemy with the firm-footed stability, the promptness, and the readiness produced by the good news] of the Gospel of peace.
16.) Lift up over all the [covering] SHIELD OF SAVING FAITH, upon which you can quench all the flaming missiles of the wicked [one].
17) And take the HELMET OF SALVATION AND THE SWORD that the Spirit wields, which is the Word of God.
18) PRAY AT ALL TIMES (on every occasion, in every season) in the Spirit, with all [manner of] prayer and entreaty. To that end keep alert and watch with strong purpose and perseverance, interceding in behalf of all the saints (GOD's consecrated people).
24) Grace (God's undeserved favor) be with all who love our Lord JESUS Christ with undying and incorruptible [Love]. AMEN

JESUS IS THE DELIVERER
DON'T STOP HERE! SEE OUR INDEX FOR MORE ARTICLES.
THERE IS NO HATE, MALICE, RACISM, ETC. ON THIS SITE. THESE ARE SINS IN THE EYES OF GOD, AND ARE ALSO DEMONS. THE BIBLE MAKES IT CLEAR THAT SIN CANNOT GET INTO HEAVEN.