THE BLOOD OF JESUS CLEANSES YOU FROM ALL SIN AND GUILT (1 JOHN 1:7). JESUS IS THE DELIVERER!!

DEMONBUSTER.COM
DELIVERANCE MANUAL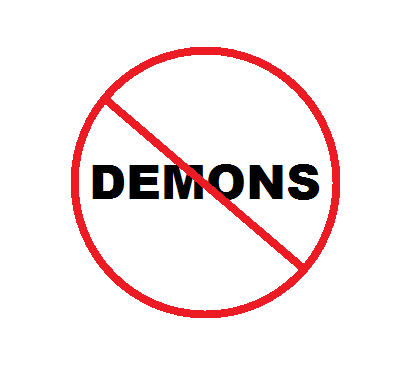 NO DEMONS ALLOWED

STRONGHOLDS

The Eerdman Bible Dictionary - A place of refuge or defense such as a mountain fortress, guard tower, or hideout (Judges 6:2, 26; 1 Chronicles 12:8; Isaiah 33:16; "fortresses"), a strategic point on the walls of a city, Isaiah 25:12 "fortifications", or simply a well-fortified city as a whole (Psalm 89:40; Lamentations 2:2).
"Stronghold" is a frequent metaphor for God as the one who gives judgment on behalf of the oppressed (Psalms 9:9; Jeremiah 16:19); or the one who guards the lives of those who trust him (Psalms 27:1; Nahum 1:7).
At 2 Corinthians 10:4, 5 "strongholds" is a metaphor for "arguments and every proud obstacle to the knowledge of God".
We have two types of "strongholds" to look at here. One, the Lord as our "Stronghold" over satan and the demons and the "strongholds" of satan and the demons over us that must be demolished and destroyed. The Word of God says that "Jesus was manifest to undo (destroy, loosen, and dissolve) the works of the devil". 1 John 3:8
According to 2 Corinthians 10:4 " the weapons of our warfare are not physical [weapons of flesh and blood], but they are mighty before God for the overthrow and destruction of strongholds." As we do warfare for ourselves and others these "strongholds" must be destroyed.
Psalms 9:9 says, "The Lord also will be a refuge and a high tower for the oppressed, a refuge and a "stronghold" in times of trouble (high cost, destitution, and desperation)". As long as we have a relationship with Jesus as our Savior, Deliverer, Lord and King, then we have the Lord as our "stronghold". The Children of God were instructed to obey God's laws and follow Him and worship Him. If they did not, their enemies captured them and put them in bondage and only when they turned back (repented) to the Lord with all their hearts and cried out to Him were they DELIVERED out of the hands of their enemies.
Let's look at some of the definitions of "stronghold" according to the Strong's Concordance. A fortified city; a fortification; castle; fortress; fortified place; fort; rock; a hemming in, i.e. a mound; fenced city; tower; munition; a fastness (as a covert of ambush); be isolated, i.e. by height or fortification; cut off; wall up; restrain; withhold. As we understand the meaning of "stronghold" we see that the Lord Jesus is our "Stronghold" and we also understand that satan uses the demons as "strongholds" in us.
Throughout the Scriptures we see where the Children of God were building the city and making it strong. There are also references to building and making the walls strong. Take Jericho for instance. The Lord instructed His people to march around the walls of Jericho seven times for seven days and then shout unto the Lord praise, and the walls came down. When the walls came down, the people of Jericho were then defeated. When we, through the weapons of our warfare, break down the walls of the demons, they can be defeated.
The Lord in Ephesians 6 tells us to "Put on the whole armor of God that we may be able to stand against the strategies and deceits of satan; and that we are not wrestling with flesh and blood but against powers, world rulers of darkness and against the spirit forces of wickedness in the heavenly sphere. Verse 13 of Ephesians 6 says, "Therefore put on God's complete armor, that you may be able to resist and stand your ground on the evil day, and, having done all to stand firmly in your place. Read the rest of Ephesians 6, here are some of our weapons to fight and tear down the "strongholds" of the demons for ourselves and our families, churches and country.
One of the major "strongholds" of satan in the church is that "Christians cannot have demons." This lie keeps the Children of our Lord from being set free. Satan has placed his demons of fear, unbelief, religion, pride, divination, witchcraft around the churches as a strong city, fortress, tower, rock, etc. to keep the truth of Deliverance out of the church. These "strongholds" must be destroyed and brought down in JESUS' NAME.
The Lord Jesus has not called us into His Kingdom to lay down and rest, to pray and beg for riches to heap on ourselves while others are destroyed for lack of knowledge. He called us to war, spiritual war and the battle is won by the strong arm of the Lord.
Deuteronomy 31:6 "Be strong, courageous, and firm; fear not nor be in terror before them, for it is the Lord your God Who goes with you; He will not fail you or forsake you. 7) And Moses called to Joshua and said to him in the sight of all Israel, Be strong, courageous, and firm, for you shall go with this people into the land which the Lord has sworn to their fathers to give them, and you shall cause them to possess it. 8) It is the Lord Who goes before you; He will [march] with you; He will not fail you or let you go or forsake you; [let there be no cowardice or flinching, but] fear not, neither become broken [in spirit, depressed, dismayed, and unnerved with alarm]. Also read Joshua 1:6,7,9,18; 10:25.
In II Chronicles 11, Rehoboam came to Jerusalem and assembled 180,000 chosen warriors to fight against Israel. But the Lord said not to go up and fight at that time. Rehoboam dwelt in Jerusalem and built cities for defense in Judah. Verse 11 says that he fortified the strongholds and put captains in them, with stores of food, oil, and vintage fruits. Verse 12 says that in each city he put shields and spears (weapons of warfare) and made them very strong. The verses go on to say that all came who set their hearts to seek and inquire of the Lord and to sacrifice to the Lord. Verse 17 says, "So they strengthened the kingdom of Judah and upheld Rehoboam for three years; for they walked in the ways of David and Solomon for three years." As long as they sought after the Lord and walked in His ways they were able to keep the city. This is what we are to do. If you look at the Scriptures in a spiritual manner you will see that we are strengthened by praise and worship of Jesus, reading His word, praying and fasting, and casting out demons. As long as we trust in Jesus and follow His ways we have the confidence that He is with us and in us and we are His. He will be our refuge and strength. Psalms 18:17 "He delivered me from my strong enemy and from those who hated and abhorred me, for they were too strong for me." Psalms 31:2 "Bow down Your ear to me, deliver me speedily! Be my Rock of refuge, a strong Fortress to save me! 3) Yes, You are my Rock and my Fortress; therefore for Your name's sake lead me and guide me. 4) Draw me out of the net that they have laid secretly for me, for You are my Strength and my Stronghold." Read Psalms 61:3,4; Psalm 71; Psalm 89: 10.
In Psalm 89:40, "You have broken down all his hedges and his walls: You have brought his strongholds to ruin." This is what the Lord does in DELIVERANCE.
Jesus told us in Luke 10:19, "Behold, I have given you authority and power to trample upon serpents and scorpions, and [physical and mental strength and ability] over all the power that the enemy [possesses]; and nothing shall in any way harm you." He also said in Mark 16:17 that those who believe shall cast out demons. Again in Ephesians He said for us to put on the whole armor of God and for us to pray. In Corinthians 10 He said that our weapons of warfare are mighty. This means that we are to do something. The scriptures above show us that the Lord is with us and He gives us strength. And as He told the Israelites to go and destroy and take the land that He had given them, we are told to go and destroy the "strongholds" and take the peace, healing, miracle, etc. that belong to us.
Also read Numbers 13:19; Judges 6:2; I Samuel 23:14, 19,29; 2 Kings 8:12; Isaiah 23:11; 26:1-3; Jeremiah 48:18, 41; 51:30; Daniel 11:24, 39; Micah 5:11; Nahum 3:12, 14; 2 Samuel 5:7.

JESUS IS THE DELIVERER
DON'T STOP HERE! SEE OUR INDEX FOR MORE ARTICLES.
THERE IS NO HATE, MALICE, RACISM, ETC. ON THIS SITE. THESE ARE SINS IN THE EYES OF GOD, AND ARE ALSO DEMONS. THE BIBLE MAKES IT CLEAR THAT SIN CANNOT GET INTO HEAVEN.