THE BLOOD OF JESUS CLEANSES YOU FROM ALL SIN AND GUILT (1 JOHN 1:7). JESUS IS THE DELIVERER!!

DEMONBUSTER.COM
DELIVERANCE MANUAL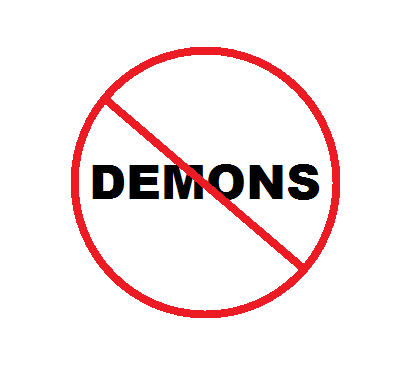 NO DEMONS ALLOWED

SYMPTOMS OF DEMON ACTIVITY

Did you know that one symptom of appendicitis is your tongue is coated with white when you wake up. While visiting my mother in December 1995, I had this for several days, but thought it was from the ice cream I ate the night before (should have brushed my teeth). Well, I spent our wedding anniversary in the hospital after going to emergency. On December 19 they took out my appendix.
At one time I asked myself how we can do DELIVERANCE on someone else and see all kinds of miracles, and yet suffer from ailments ourselves. After eight years in the DELIVERANCE Ministry, I have found out firsthand and from some of you, that we don't have all the answers, and we don't always get healed or get our miracle.
Does that mean we should stop praying for other people? Of course not! I would pray for healing on someone else from my sick bed if I had the chance. We must continue to do what JESUS told us to do, whether we feel like it or not. In July 1996 I spoke to a DELIVERANCE Minister who goes around teaching and preaching healing, and DELIVERANCE FROM A WHEEL CHAIR! This same man was healed of cancer years ago.
Last month I prayed for another DELIVERANCE Minister, and he told me he got worse after I prayed! I heard someone say one time that every person he prayed for with a serious illness died. He had over ten bodies lined up. It wasn't his prayer that killed them. Finally he got a miracle, but he admitted being worried a little bit. I haven't had anyone with a serious illness ask for prayer, but I would give it my best prayer and time.
Some of you DELIVERANCE Ministers have been sick, recovered, or may still be sick. God is still God. He heals us, or gives us a Miracle, or DELIVERS us as He sees fit. If it wasn't for His Grace, just think how bad off we really might be. You might get well if you start RETURNING curses, witchcraft, voodoo and the like. It amazes me how you can get a witchcraft attack (like an immediate sharp pain), pray and send it back, and it disappears immediately. The enemy does indeed send nasty things our way.
Getting back to symptoms, everyone has some symptoms of DEMON activity INSIDE. It would be nice to say we did not have any demons, but only JESUS can and did make that statement (John 8:49 " 14:30). Do you have a temper? That's a symptom! Do you eat too much? That's a symptom! Do you lie? That's a symptom! Almost anything that is going on in your being is the symptom of a DEMON. Yes, I said a DEMON. Remember, if it looks like a duck and it quacks like a duck, etc., then call it what it is, a DUCK. Every time I tell someone about DELIVERANCE, they seem to be fine until you mention that word DEMON. Do you compromise the Word of God and not use the word DEMON because you don't want to offend someone? If the true Agape Love of God is flowing in you, it is your duty to tell the truth and call it for what it is, a D-E-M-O-N. How can you be in the demon buster business if you call the duck a cat?

JESUS IS THE DELIVERER
DON'T STOP HERE! SEE OUR INDEX FOR MORE ARTICLES.
THERE IS NO HATE, MALICE, RACISM, ETC. ON THIS SITE. THESE ARE SINS IN THE EYES OF GOD, AND ARE ALSO DEMONS. THE BIBLE MAKES IT CLEAR THAT SIN CANNOT GET INTO HEAVEN.