THE BLOOD OF JESUS CLEANSES YOU FROM ALL SIN AND GUILT (1 JOHN 1:7). JESUS IS THE DELIVERER!!

DEMONBUSTER.COM
DELIVERANCE MANUAL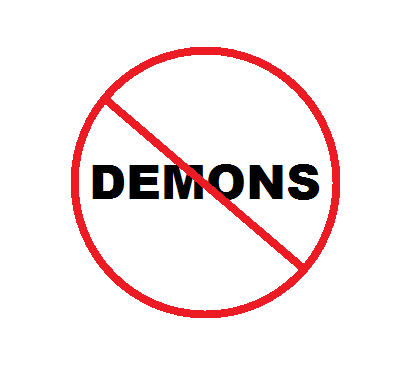 NO DEMONS ALLOWED

TAKE CARE, FAREWELL OR CURSE?

FROM ANOTHER MINISTRY
"Take Care", Farewell or Curse? Have you ever told anyone to "take care" when you were saying good-bye? Maybe you recently hung up the phone and advised the person on the other end of the line to "take care." Maybe a friend of yours, a Christian, instead of saying "good-bye" told you to "take care." What did you really say to that person or what did he or she really say to you?
You just advised them "to worry" and "to be anxious." Care is worry, anxiety and distress. When we willingly pick it up or take it to ourselves, we accept the enemy's plan for us. When we wish it on someone, aren't we wishing them ill? I believe telling someone to "take care" as a farewell or as a form of well-wishing is similar to a curse. I don't have a "thus saith the Lord" on this but when you wish someone care and worry and anxiety, you are not wishing them well. Besides, it's 180 degrees opposed to what the Bible tells us.
1 Peter 5:6"7 says "Humble yourselves under the mighty hand of God, that He may exalt you in due time, casting all your CARE upon Him, for He cares for you."
The word care there comes from the Greek word "merimna", which literally means to "divide the mind." The word denotes distractions, anxieties, burdens, and worries. Merimna means to be anxious beforehand about daily life. Such worry, according to the Bible, is unnecessary because our heavenly Father provided both our daily and special needs. (from Word Wealth, Spirit Filled Life Bible.)
In this verse the Holy Spirit is urging us, even commanding us, to cast all our distractions, anxieties, burdens and worries on God because He loves us and He knows we don't function well carrying them. So, why wish these burdens and worries on someone else, especially a brother or sister in JESUS?
In Philippians 4:6 and 7, the Bible tells us to "Be anxious for nothing, but in everything by prayer and supplication, with thanksgiving, let your requests be made known to God; and the peace of God, which surpasses all understanding, will guard your hearts and minds through Christ JESUS." What about ending the conversation with our friends, or enemies, with an exhortation to "Make your requests known to God" rather than telling them to "take care"? God is in the worry-free business, not the take-care business. He wants us free. That's part of the good news.
Did JESUS say anything about care and worry? Yes. In Matthew 6:25 through 34, He exhorts us not to worry about life, because our heavenly Father loves us and will provide for us. Matthew 6:25 says "Therefore I say to you, do not WORRY about life, what you will eat or what you will drink; nor about your body, what you will put on." The word "worry" is "merimnao", similar to "merimna". It literally means to "divide into parts", and suggests distraction, a preoccupation with things causing anxiety, stress and pressure. In Matthew 6:34, JESUS concludes: "Therefore do not worry about tomorrow, for tomorrow will worry about its own things. Sufficient for the day is its own trouble." Our heavenly Father, our Lord JESUS Christ, and the Holy Spirit are teaching us not to worry, not to care, to put all our care "on Him." Therefore, we don't need to receive worry, even in the seemingly harmless form of an idiomatic farewell. Nor should we want to wish worry on anyone. Next time someone tells you to "take care," politely tell them "No thank you, I'm not going to take any care, I'm not going to worry about anything, I'm going to cast (roll) my cares on God." That may cause that person to stop and think about what he or she said. At least you'll feel better about it."

JESUS IS THE DELIVERER
DON'T STOP HERE! SEE OUR INDEX FOR MORE ARTICLES.
THERE IS NO HATE, MALICE, RACISM, ETC. ON THIS SITE. THESE ARE SINS IN THE EYES OF GOD, AND ARE ALSO DEMONS. THE BIBLE MAKES IT CLEAR THAT SIN CANNOT GET INTO HEAVEN.