THE BLOOD OF JESUS CLEANSES YOU FROM ALL SIN AND GUILT (1 JOHN 1:7). JESUS IS THE DELIVERER!!

DEMONBUSTER.COM
DELIVERANCE MANUAL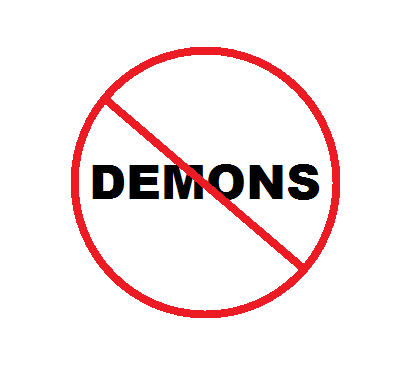 NO DEMONS ALLOWED

TEMPER

For those of you who have a bad temper, we have found the following information that should encourage you to seek DELIVERANCE.
"Perhaps many of the men or women who do permit some fits of temper to shake and sicken them believe that such temper is not any peril to them; if so, they do not pay proper notice to the signs of peril. Periodic formal checks made by many medical men prove that fits of temper may do permanent harm to the body, for temper does make the body perform under an unusual tension; during the period of touch tension, the body is thrown out of proper balance an is thus not fit or able to perform with proficiency. When the temper subsides, the body tries to go back to its proper course, but often toxic elements aroused with temper do not permit any such return."
Be sure to forgive the people that have hurt you before you cast the demons OUT. If cancer, arthritis or gall bladder diseases run in your family line, then there is an iniquity (murder, hate, unforgiveness, etc.) involved and it must be confessed according to Leviticus 26:40-42. Also, break the curses going back at least 10 generations.
Bitterness, hate, murder, retaliation, unforgiveness and temper are just some of the demons associated with temper. The diseases of cancer and arthritis are also demons that need to be cast OUT.
If you think your temper is your "flesh", then why does the temper leave when it is cast out in the name of Jesus? Guess you were taught wrong

JESUS IS THE DELIVERER
DON'T STOP HERE! SEE OUR INDEX FOR MORE ARTICLES.
THERE IS NO HATE, MALICE, RACISM, ETC. ON THIS SITE. THESE ARE SINS IN THE EYES OF GOD, AND ARE ALSO DEMONS. THE BIBLE MAKES IT CLEAR THAT SIN CANNOT GET INTO HEAVEN.