THE BLOOD OF JESUS CLEANSES YOU FROM ALL SIN AND GUILT (1 JOHN 1:7). JESUS IS THE DELIVERER!!

DEMONBUSTER.COM
DELIVERANCE MANUAL

OUR MAIN PAGE IS AT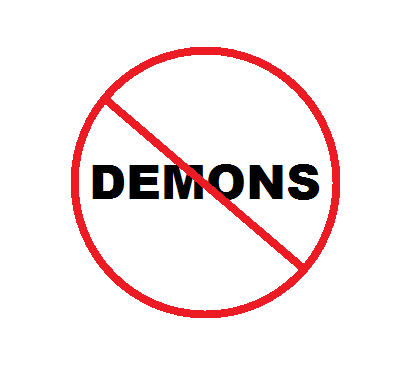 NO DEMONS ALLOWED

THE TERMINATOR --
TERMINUS

THE TERMINATOR is the name of a demon that was revealed by the Holy Spirit.
In October 2000, a friend fell and broke some bones in her foot. She also had a place where the skin was broken and this area got infected. As she was seeking the Lord, a friend of hers called and said that she had been attached by a spirit (demon) called THE TERMINATOR. They went on to say that this demon could not kill you, but it could beat you up, cause you pain, cause you to pass out, etc.
The following is some information about this demon, also called "Terminus."
The Wordsworth Concise English Dictionary states that Terminus is the Roman god of boundaries; a boundary stone; an end-point, esp. of a route, that may come or be brought to an end; the limit.
Roget's Thesaurus states under terminus the word boundary - bound, limit, limitation, hedge, break or breakoff point, cutoff point, terminus, term, deadline.
As we look at the definitions of the word Terminus, we find that this demon will try to stop you from serving the Lord and/or going on with Deliverance and/or fulfilling the call of God upon your life. If you have been beat up, pushed around, had tremendous trials and tribulations the "CURSE OF TERMINUS" may be affecting your life and ministry.
While looking in the Word of God for information on terminus, the word "destructions" came up. The Strong's Concordance states the following:
Destructions No. 7722 - to rush over; a tempest; by impl. devastation; desolate (ion), destroy, destruction, storm, wasteness. No. 7825 - pit fall; to depress, i.e. prostate, bow down, fall down, make to stop. I believe that this is the major function of this demon - to stop you from going on with the Lord, especially in DELIVERANCE.
Psalm 35:17 "Lord, how long will You look on [without action]? Rescue my life from their destructions..."
Psalm 103:4 "Who [the Lord] redeems your life from the pit and corruption..."
Psalm 107:20 "He sends froth His word and heals them and rescues them from the pit and destruction." Also read Matthew 8:8; II Kings 20:4,5.
PRAYER AND DELIVERANCE:
Father, in Jesus' Name I break the CURSE OF TERMINUS - THE TERMINATOR off of and out of my life. I command these demons to come out of me and leave me now in JESUS' NAME:
Terminus, terminator, destruction, corruption, to be depressed, to be stopped, demons that cause me to come to the breaking point or be brought to an end, infirmity, sickness, diseases, and any other demons causing these problems.
AFTER DELIVERANCE PRAY:
Father, In Jesus' Name I asked that you fill me fuller with the Holy Spirit where these demons came out.
NOW - start praising and worshiping the Lord.

JESUS IS THE DELIVERER
THERE IS NO HATE, MALICE, RACISM, ETC. ON THIS SITE. THESE ARE SINS IN THE EYES OF GOD, AND ARE ALSO DEMONS. THE BIBLE MAKES IT CLEAR THAT SIN CANNOT GET INTO HEAVEN.