-- This is NOT the website of Gene Moody. It is the website of DEMONBUSTER.COM.

THE BLOOD OF JESUS CLEANSES YOU FROM ALL SIN AND GUILT (1 JOHN 1:7).
JESUS IS THE DELIVERER!!

DEMONBUSTER.COM
GENE AND EARLINE MOODY
DELIVERANCE MANUAL

MAIN PAGE IS AT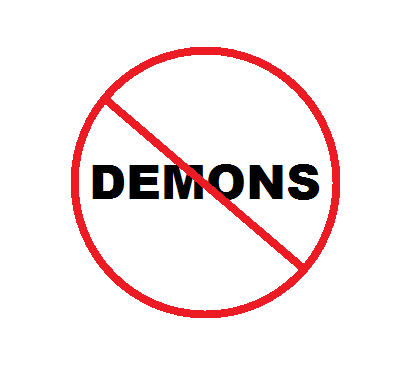 NO DEMONS ALLOWED

THE CHRISTIAN LIFE

(SALVATION, BAPTISM IN WATER, DELIVERANCE,
BAPTISM IN HOLY SPIRIT, AND HEALING)
THE GROWTH OF A CHRISTIAN
Mark 16:15-20 And he said unto them, Go ye into all the world, and preach the gospel to every creature. He that believeth and is baptized shall be saved; but he that believeth no shall be damned. And these signs shall follow them that believe; In my name shall they cast out devils; they shall speak with new tongues; They shall take up serpents; and if they drink any deadly thing, it shall not hurt them; they shall lay hands on the sick, and they shall recover. So then after the Lord had spoken unto them, he was received up into heaven, and sat on the right hand of God. And they went forth, and preached every where, the Lord working with them, and confirming the word with signs following. Amen.
1. Receive The Gospel (Preaching).
2. Get saved (Salvation).
3. Get water baptized (Baptism in Water).
4. Signs will follow the believer (Miracles).
5. Cast out devils (Deliverance).
6. Speak with new tongues (Baptism in Holy Spirit).
7. God will protect the believer (Supernatural).
8. The sick will recover (Healing).
EIGHT SCRIPTURES ABOUT THE BLOOD OF CHRIST
1. Exodus 12:13 When I see the blood, I will pass over you, and the plague shall not be upon you to destroy you.
2. Exodus 24:8 Behold the blood of the covenant, which the LORD hath made with you.
3. Leviticus 17:11 It is the blood that maketh an atonement for the soul.
4. Romans 3:25 Whom God hath set forth to be a propitiation (the cleansing and life-giving sacrifice of atonement and reconciliation, to be received) through faith in his blood.
5. Hebrews 9:14 How much more shall the blood of Christ purge your conscience from dead works to serve the living God?
6. Hebrews 10:19 Boldness to enter into the holiest by the blood of Jesus.
7. I Peter 1:19 But with the precious blood of Christ.
8. I John 5:8 The spirit, and the water, and the blood; and these three agree in one.
FIVE SIMPLE STEPS TO A SOUL WINNING DECISION
The Romans's Road To Salvation
1. Man's Need: For all have sinned, and come short of the glory of God (Romans 3:23).
2. Sin's Penalty: For the wages of sin is death (Romans 6:23a).
3. Christ's Remedy: But God commendeth His love toward us; in that, while we were yet sinners, Christ died for us (Romans 5:8).
4. God's Gift To Men: But the gift of God is eternal life through Jesus Christ our Lord (Romans 6:23b).
5. How To Accept: That if thou shalt confess with thy mouth the Lord Jesus, and shalt believe in thine heart that God hath raised Him from the dead, thou shalt be saved. For whosoever shall call on the Name of the Lord shall be saved (Romans 10:9,13).
1. Are you at peace with God and ready to meet him?
2. Is there anyone that needs to get saved from Hell?
3. Sinner's Prayer: I have sinned and deserve to die but Christ died for me so that I could have eternal life. I confess, believe and call on The Lord Jesus for salvation. Lord Jesus Christ, I ask you to forgive me of my sins. Holy Spirit, I ask that you come into my spirit. Almighty God, I ask that you become my heavenly father. I thank you that I am now a Christian. In The Name of Jesus Christ I pray. Amen.
SEVEN THINGS TO DO TO RECEIVE DELIVERANCE
1. Be Honest
Psalms 32:5 I acknowledged my sin unto thee.
Psalms 139:23-24 Search me, O God, and know my heart.
2. Be Humble
James 4:6-7 God giveth grace unto the humble.
James 5:16 Confess your faults one to another.
3. Repent For Your Sins
Ezekiel 20:43 Ye shall lothe yourselves.
Amos 3:3 Can two walk together, except they be agreed?
4. Renounce Your Evil Ways
Matthew 3:7-8 Bring forth therefore fruits meet for
repentance.
Acts 19:18-19 And confessed, and shewed their deeds.
5. Forgive Everyone
Matthew 6:14-15 Heavenly Father will also forgive you.
Matthew 18:21-35 If you forgive not every one his
brother.
I John 1:9 If we confess our sins.
6. Pray For Everyone
Joel 2:32 In the name of the Lord, you shall be delivered.
7. Do Spiritual Warfare
Psalm 18:2 The Lord is my fortress, and my deliverer.
Mark 16:17 In my name shall they cast out devils.
Luke 10:19 And nothing shall by any means hurt you.
II Corinthians 10:3-5 We do not war after the flesh.
Ephesians 6:10-12 Wrestle not against flesh and blood.
Ephesians 6:17 Sword of the Spirit.
James 4:7 Resist the Devil, and he will flee from you.
FOUR STEPS LEADING TO THE BAPTISM IN THE HOLY GHOST
1. Romans 10:8-13 Believe, confess and call.
2. Luke 6:46 Obey Him
3. Hebrews 5:8-9 Salvation unto all them that obey him.
4. Acts 2:38 Repent, be baptized and receive the Holy Ghost.
EIGHT STEPS LEADING TO THE BAPTISM IN THE HOLY GHOST
1. Acts 1:4 The promise of the Father.
2. Acts 2:39 The promise is for everyone.
3. Luke 11:9-13 Ask.
4. Mark 11:24 Believe you have it and you do.
5. Acts 10:46 The evidence (for they heard them speak).
6. I Corinthians 14:14 My spirit prays (I speak) but my understanding is unfruitful (I don't know what I am saying).
7. Jude 20 Pray daily
8. Romans 8:26-27 The Spirit maketh intercession for us.
NINE THINGS TO DO TO LIVE THE CHRISTIAN LIFE
1. Read your Bible every day.
2. Pray daily.
3. Be a soul winner.
4. Attend church.
5. Give to God's work.
6. Trust God completely.
7. Have a Christian attitude.
8. Overcome sin and Satan.
9. Rejoice in Christ.
FIVE THINGS TO DO TO STAY VICTORIOUS
1. Major on a life of worship and praise everyday of your life.
2. Major in living a life of love.
3. Major on obeying Jesus and doing His Will in your life.
4. Deal with your disappointments quickly.
5. Hang loose - travel light - keep it simple.
THREE ULTIMATE WEAPONS AGAINST SATAN
Revelation 12:11 And they overcame him by the blood of the Lamb, and by the word of their testimony; and they loved not their lives unto the death (Sing this verse.)
1. The Blood of Christ!
2. The word of your testimony!
3. Your surrendered, sacrificial life!

JESUS IS THE DELIVERER