-- This is NOT the website of Gene Moody. It is the website of DEMONBUSTER.COM.

THE BLOOD OF JESUS CLEANSES YOU FROM ALL SIN AND GUILT (1 JOHN 1:7).
JESUS IS THE DELIVERER!!

DEMONBUSTER.COM
GENE AND EARLINE MOODY
DELIVERANCE MANUAL

MAIN PAGE IS AT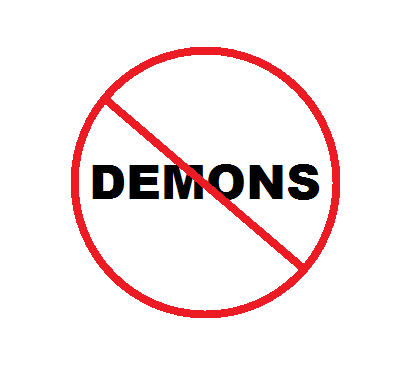 NO DEMONS ALLOWED

THE WOMAN MINISTER

TABLE OF CONTENTS
1. PREFACE
2. BACKGROUND
3. WOMEN
4. QUESTIONS
5. COMMENTS
6. SCRIPTURE REFERENCES
7. EXPLANATION
1. Female Apostle
2. Female Prophets
3. Female Teachers
4. Female Evangelists and House Church Leaders
5. Female Deacons
6. Female Missionaries
7. Scripture Evidence
8. Comments
8. CORRECTING CARICATURES
9. ORAL LAW OF THE JEWS
10.SUMMARY
PREFACE
I believe that GOD told me: we are in the last hours of the last days of the end times. America is under the severe judgment of GOD. We are in the culmination of the ages. We are in the days of Lot and Noah.
The ultimate goal of Satan is to be worshiped by the world. The ultimate goal of the elite is to rule the world, establish a world leader and destroy Christianity.
Part of Rev. 12:9 ---THE DEVIL, AND SATAN, WHICH DECEIVETH THE WHOLE WORLD---. Jer. 5:21 HEAR NOW THIS, O FOOLISH PEOPLE, AND WITHOUT UNDERSTANDING; WHICH HAVE EYES, AND SEE NOT; WHICH HAVE EARS, AND HEAR NOT. The world is deceived, foolish and without understanding.
We are in a very deadly warfare with the Kingdom Of Evil. Look at what Satan is doing to Christians in their spirits - souls - bodies: mentally - physically - spiritually - materially. The statistics of the world are less than 1% saved and more than 99% going to Hell. I believe that less than one out of four in The Church today are saved because of apostasy.
JESUS CHRIST came to preach The Gospel, Heal The Sick and Cast Out Demons. Every Christian should preach The Gospel, Heal The Sick and Cast out Demons. Every Christian is a minister, has a ministry, and has one or more GIFTS OF THE HOLY SPIRIT.
Mark 16:17AND THESE SIGNS SHALL FOLLOW THEM THAT BELIEVE; IN MY NAME SHALL THEY CAST OUT DEVILS; THEY SHALL SPEAK WITH NEW TONGUES. Every believer, young and old, male and female should be casting out devils.
BACKGROUND
I felt that GOD told Earline and me to teach people around the world how to do deliverance and to train Him an army. I am very oriented to working with anyone around the world who will minister deliverance and healing. Healing goes along with deliverance. You can cast out a demon of infirmity and the person can be healed.
I do this through the internet: emails, demonbuster.com and bedelivered.com; publications: Deliverance Manual, Spiritual Warfare Manual, How To Do Deliverance Manual, Sexual Deliverance Manual, Witchcraft Deliverance Manual, Curses Deliverance Manual, Healing Deliverance Manual, Spiritual Warfare Prayer Book and Mini Deliverance Manual; personally: over the telephone, in my home, traveling ministry and through the mails.
WOMEN
Women comprise half of the world's population. If you leave Christian women out of the ministry, you are leaving out a vast resource that could be used to fight for THE KINGDOM OF GOD.
Many women are willing to get involved with deliverance, whereas many men are not. Women have more courage than men in this area.
Jer. 48:10 CURSED BE HE THAT DOETH THE WORK OF THE LORD DECEITFULLY, AND CURSED BE HE THAT KEEPETH BACK HIS SWORD FROM BLOOD (See also 1 Kings 20:35-42). The Bible says that they are cursed for not fighting THE LORD'S BATTLES in deliverance and healing. I am disgusted with cowardly men in the ministry who are afraid to get involved in the battle for THE LORD by keeping back their godly sword from shedding the blood of Satan and his kingdom.
Therefore, I will do what I can to help women in the five-fold ministry and lay women to do deliverance in their ministry or family. I will do everything I can to support women apostles, prophets, evangelists, pastors and teachers to do what GOD has called them to do. I have no problem with submitting to a woman in a position of authority in The Church. I believe that GOD revealed to me that I have a calling to help women in the ministry which I have done for years. I believe that GOD told me that I have an army of female warriors!
QUESTIONS
The Bible says that the woman is the weaker vessel (1 Peter 3:7). What are the pitfalls of the following:
1. Should a man minister to a woman alone in deliverance? (possible sexual sin)
2. Should a woman minister to a man alone in deliverance? (possible sexual sin)
3. What about a woman minister who travels with another woman? (possible lesbianism)
4. What about a woman who ministers by herself that is either married or unmarried? (possible danger to unprotected female)
5. What about a woman who ministers that is married and her husband is unsaved or saved, and will not travel with her? (Husband possibly not in agreement or acting as a covering; woman has to travel by herself.)
COMMENTS
1. Earline and I ministered as a husband and wife team for twenty-three years until she went to be with THE LORD. What were the advantages of this method? (She protected me against women; I protected her against men.)
2. It will be very difficult for a woman who has an unsaved husband to be effective in deliverance. They are not in agreement, woman is weaker vessel, she must go by herself and possible problems at home. A woman is more effective when she is married, her husband is a believer who practices deliverance and they are in agreement.
3. Every believer should be involved in deliverance: male and female, young and old, children and adults.
4. Women who are in the five-fold ministry should do deliverance. It should be done in situations where she has protection: in open church with congregation or in her office. The deliverance team should be present to assist and protect her.
5. The woman is a greater target than a man for rape, sexual abuse and other dangers even though men are being raped and sodomized today. The woman needs to be more careful than a man but the man needs to be careful too.
6. The woman is not inferior in anyway to a man but is simply weaker as GOD made her. GOD did not make any mistakes when he formed Eve as a woman.
7. GOD made the man to protect, provide, honor, love and cherish the woman, and not to take advantage of her in anyway.
SCRIPTURE REFERENCES
Note that the word man/men can also mean woman/women unless it is clear that it has to be woman/women such as birthing a child.
Judg. 4:4-11; 5:7Deborah: prophetess, judge, went with Barak to war, mother in Israel.
2 Kings 22:12-14, 2 Chron. 34:14-33Huldah: prophetess, prophesied destruction of Jerusalem.
Luke 2:36; 24:9-10Anna: prophetess, departed not from the temple; Mary Magdalene, Joanna, Mary The Mother of James and other women: reported what happened at the tomb of JESUS CHRIST.
John 4:39; 20:17Samaritan Woman: CHRIST talketh with her; Mary Magdalene: JESUS appeareth to her.
Acts 2:4-21; 16:13-14, 40; 18:26; 21:9handmaidens: THE HOLY SPIRIT poured out on them and prophesied; Lydia: attended unto the things which were spoken of Paul; Aquila and Priscilla: expounded unto him the way of GOD more perfectly; Four Daughters: prophesy.
Rom. 12:4-6, 8; 16:1-5, 7, 12-13, 15many members in one body; GIFTS OF THE SPIRIT; Phebe: servant, business that she hath need of you; Priscilla and Aquila: helpers, laid down their own necks; Junia: fellow prisoners, note among the apostles; Tryphosa: labor in THE LORD.
1 Cor. 1:11; 11:11; 12:7-10, 18; 14:31Chloe: house of; neither is the man without the woman, neither the woman without the man; yet all to profit from spiritual gifts; GOD set the members every one of them in the body, as it has pleased Him; for ye may all prophesy.
Gal. 3:27-29There is neither Jew nor Greek, there is neither bond nor free, there is neither male nor female.
Eph. 4:7-13GOD therefore giveth divers gifts unto men/women.
Col. 3:16; 4:15teaching and admonishing one another in psalms and hymns and spiritual songs.
Phil. 4:3 help those women which laboured with me in the gospel.
2 John 1:1The elder unto the elect lady and her children.
Acts 8:3 to 9:2Cast into prison because of their faith.
EXPLANATION
Female Apostle:Junia is a woman who was imprisoned along with Paul for working to spread the Gospel. She was not only an apostle but also prominent among the apostles (Rom. 16:7).
Female Prophets:As in The Old Testament, prophets in The New Testament provided correction and encouragement to The Church. The spiritual well-being of The Church was strengthened by prophets. Women such as Anna (Luke 2:36), Philip's four prophesying daughters (Acts 21:9), the women who prophesied at Pentecost - the birth of The Church (Acts 2:4-21), and the women in Corinth (1 Cor. 11:4-5; 14:31) offered leadership to GOD's KINGDOM as prophets.
Female Teachers:Both Luke and Paul acknowledged a female teacher - Priscilla - who instructed one of the most gifted evangelists in The New Testament, Apollos. Moreover, Paul instructs the whole church at Collossae to teach one another.
Female Evangelists and House Church Leaders:There is no shortage of women evangelists or house-church leaders in Scripture. Lydia was an evangelist, as well as a house-church and business leader (Acts 16:13-14, 40). She launched the first church in Philippi, which was also the first church in Europe.
There was also Apphia, who oversaw the church in Colossae (Phil. 1-2 ). There was the elect lady (2 John 1:1); Nympha (Col. 4:15); Chloe (1 Cor. 1:11); and Priscilla, co-worker (Acts 18:26; Rom. 16:3).
Paul said that women such as Tryphena, Tryphosa and Persis worked hard for THE LORD (Rom. 16:22), a phrase Paul used to describe his own missionary efforts. Similarly, Euodia and Syntyche struggled beside Paul (Phil. 4:3) in the work of The Gospel, and thus Paul affirms Euodia and Syntyche as leaders in the church at Philippi.
Other female evangelists include JESUS' female disciples (Luke 24:9-10), the Samaritan woman who told the people of Sychar about JESUS THE MESSIAH (John 4:39), and Mary Magdalene, whom JESUS told go to my brothers and tell them (John 20:17).
Female Deacons:Leadership was service and service was leadership in the early church, and those who served were also called deacons (1 Tim. 3:8-13). The female deacons anointed and baptized other women, they also taught women and children and visited the homes of female believers who were ill in order to bring them Communion.
Phoebe was a deacon who served the church of Cenchrea. She also delivered Paul's letters to the church in Rome. Paul refers to Phoebe as benefactor (Rom. 16:2), which literally means one who is in authority or one who exercises leadership (as in Communion). Paul affirmed the authority and service of women when they promoted The Gospel (Acts 18:26; Rom. 16:1-5, 7, 12-13, 15).
Female Missionaries:Throughout the history of world missions, women have served as church planters, overseers, prophets and teachers.
Scripture Evidence: Women's prominence as spiritual leaders is hard to ignore and impossible to suppress because their power does not have human origin but is from GOD.
It suggests that everyone is called to lead - because everyone is called to serve and use his or her GOD GIVEN GIFTS to build up The Church. Paul recognized that leadership and authority are rooted in service. Biblically, one's reach as a leader stretches only as far as one's willingness to stoop and serve others. Whoever is most prepared to put aside his or her personal wishes and ambition in order to build others up is most ready for leadership regardless of gender.
Comments: Consider Deborah, whose service as a judge and prophet influenced all of Israel. Her leadership and spiritual insight were so significant that the men of Israel refused to go into battle without her (Jud. 4:4-9; 5:7). She is quoted in Scripture as saying they held back until I, Deborah, arose, a mother in Israel. She was leading Israel at that time. The Israelites went up to her to have their disputes decided. Prophets were used by GOD to guide the entire nation, particularly its leaders: the priests and kings bringing leadership, exhortation and correction.
Josiah sent a high-ranking committee to Huldah for advice rather than to either Zephaniah or Jeremiah - both male prophets. Huldah called Israel to obey the Torah and led the nation to its most significant reform in nearly 100 years.
Those living in Old Testament times did not make a distinction between spiritual and secular leadership. Leaders such as Miriam, Ruth, Esther, Rahab, Jael and the women who were keepers of Jerusalem's city gates influenced all of Israel. Women led Israel's army; judged disputes; exhorted and advised Israel's prophets, priests and kings; declared the ways of GOD to the people; and brought major social and spiritual reforms.
Those who are clothed in CHRIST are no longer identified or limited by their ethnicity, class or gender. Thus we find slaves, gentiles and women all serving as evangelists, apostles and teachers alongside Paul, spreading The Gospel, building and leading house churches. Men and women are of equal value in GOD's SIGHT.
CORRECTING CARICATURES
1.Gen. 2:18Woman as possessing power or strength corresponding to the man.
2. Gen. 3:16Not a command for man to rule over the woman, but is a curse: men (unfortunately) will rule over women.
3. Gen. 3:16Women did not acquire sexual desires or develop lust for men as a result of The Fall.
4. Exo. 38:8; 1 Sam. 2:22, etc.Women served at the tabernacle and ministered as prophetesses in The Old Testament.
5. 1 Tim. 2:8-15Women are encouraged to lead in public prayers and to teach, but only after they have been taught.
6. 1 Cor. 14:34-38The Talmud, not The Old Testament law, taught that women must be silent and only talk at home.
7. 1 Cor. 11:2-16Women are to exercise authority and veils are not required.
8. The Scriptures are far from being repressive, hostile, or demeaning to women, instead they constantly elevate women and give them places of honor and credit along with their male counterparts. Together men and women are joint heirs of the grace of life (1 Pet. 3:7, 11) submitting themselves to THE LORD and to each other (Eph. 5:21). These gifts are never gender-coded in Scripture but they are meant for the blessing of the whole body of CHRIST. The Scripture on the teaching of women and their ministries to be GOD's final word for our day as it has been in the past.
ORAL LAW OF THE JEWS
The Oral Law of the Jews is the Talmud. They are the Jewish fables that Paul resisted. These statements of the rabbis describe their personal opinions of women and are not THE WORD OF GOD. The rabbis, the oral law, and customs replaced GOD's WORD which made null and void the commandments of GOD.
The WORD OF GOD began to be mixed into the traditions of men and obviously women's position deteriorated after the Jewish captivity until the time of JESUS. The scribes gained greater respect and their interpretations became law (Halacha). The leaders tried to cling to their ancient tribal system where men were supreme and women were considered property. Soon the Hebrew Scriptures were reduced to a ritualistic labyrinth of precepts, regulations and traditions, many of them contradictory. See Matt. 15:3, 9 and Col. 2:22 and other verses about what JESUS said about their teachings, rules, traditions, commands and regulations on how to live according to the Torah, the law (Tannaim and Mishnah).
There was no other but the Oral Law of the Jews, appealed to the Judaizers in the church in their efforts then to bring Christianity back within the confines of Judaism which did teach the silencing of women. The Talmud also taught that it was a shame for a woman to let her voice be heard among men. Paul said that we are dead to the law by THE BODY OF CHRIST (Rom. 7:4). Paul showed clearly that women were accustomed both to pray and to preach in public.
SUMMARY
Women were prophets; received THE SPIRIT together with men; disciples of JESUS; witnessed His Death, Burial and Resurrection; their fame was great in the early church; they led house churches and preached The Gospel; exercised decisive influence; held prayer meetings; presided at worship; labored and toiled; contended side by side; shows women to be leading figures; expelled from Rome; taught men. Women figured prominently in THE MINISTRY OF JESUS. They were ministers, missionaries, servants, deaconesses, co-workers, laborers, helpers, recommended, leaders, preachers, teachers.
Christian women have been robbed of their true status in THE CHURCH OF CHRIST. Women have been confined to an inferior, passive role in church leadership. They were put down according to The Jewish Oral Law by priests that wanted to control the women. Surely the love a caste system has had something to do with this anomaly.
REFERENCES
Women Messengers For Jesus Christ by Pat Holliday
Taking Women Out Of The Box by Mimi Haddad
Does God Use Women As Spiritual Leaders? by Julie Wilson
Correcting Caricatures: The Biblical Teaching On Women by Walter Kaiser, Jr.
The Holy Bible King James Version by ALMIGHTY GOD

JESUS IS THE DELIVERER