THE BLOOD OF JESUS CLEANSES YOU FROM ALL SIN AND GUILT (1 JOHN 1:7). JESUS IS THE DELIVERER!!

DEMONBUSTER.COM
DELIVERANCE MANUAL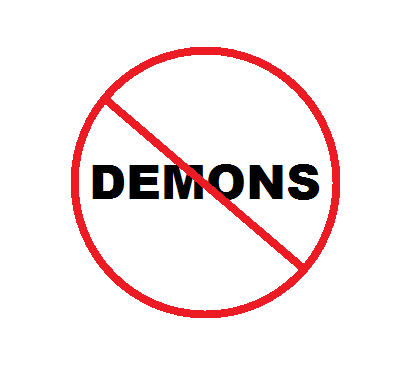 NO DEMONS ALLOWED

DELIVERANCE TIDBITS

Do you play golf? In the Jackson Clarion-Ledger on August 19, they had an article entitled "ZEN: The religion of golf - Increasingly, approaches to the game borrow from Zen Buddhism". They also had a large picture of a golfer teeing off to a green and sand trap combination shaped like the yin-yang. You may want to do some extra warfare when on the greens. That same week it was on the national news.

Not all your words about the Lord and DELIVERANCE go to deaf ears. In February we had to have our carpet steam cleaned, and I rarely miss an opportunity to talk about DELIVERANCE. Well, six months later the carpet cleaning man showed up on our doorstep without advance notice wanting some DELIVERANCE. He got it too!

SHALL - I heard this preacher on the radio say this about the word "shall" - "Shall is the strongest word in sentence structure, meaning without possibility of failure". Mark 16:16 - "He that believeth and is baptized SHALL be saved; but he that believeth not SHALL be damned. 17. - And these signs SHALL follow them that believe; In My Name SHALL they cast out devils; they SHALL speak with new TONGUES; 18. - They SHALL take up serpents (demons); and if they drink any deadly thing, it SHALL not hurt them; they SHALL lay hands on the sick, and they SHALL recover.

If you have trouble saying "no" or "yes" to people, then cast OUT the demons in your will.

For DELIVERANCE from satanic ritual abuse try "pulling the power plug".

GIVING GLORY TO THE DEVIL
You've heard the expression "Don't talk about satan because you are giving glory to the devil..." You hear Pastors say this mostly. Well, that's just someone's demon saying that. Tell them that you are not giving glory to the devil you are EXPOSING him and his demons to the LIGHT. They hate the LIGHT which is the Word of God. Isaiah 8:20 says "...if they speak not according to this word, it is because there is no light in them".

FROM ANOTHER MINISTRY
An oppressive doctrine many churches teach is the "woe and toil" doctrine that asserts that trials, tragedies, etc. are from JESUS and are intended to "mature" us, "break" us, etc. (or whatever) for His mysterious but no doubt benevolent will.
Thank God that many are now awakening to the power we [Believers] possess via faith and the spoken word, in JESUS' Name. Life-giving voices are being raised up to enlighten us about the great inheritance we now possess.

If you haven't tried it lately, try singing silently any rendition of "Oh, the Blood of JESUS" the entire time you are showering. See how many times your mind will wander from that tune in the short time you are bathing. The devil hates you to sing about "THE BLOOD".

PSALM 27:14 - "Wait and hope for and expect the Lord; be brave and of good courage and let your heart be stout and enduring. Yes, wait for and hope for and expect the Lord."

JEAN DIXON
"Where do you think Jeanne Dixon gets all her information? A DELIVERANCE Minister read her book before her knowledge of DELIVERANCE, and later renounced reading the book.
Jeanne Dixon describes in detail how that "loving serpent" got into bed with her, curled around her and gave her "knowledge". At first, she was frightened when she felt the coldness of the snake and then later she began to enjoy it."

II Timothy 3:12 "Indeed all who delight in piety and are determined to live a devoted and Godly life in Christ JESUS will meet with persecution [will be made to suffer because of their religious stand].

On October 14th, 1994 I was listening to a talk program on radio. The subject was from an expert discussing all the children that are missing as a result of satanists, and also all the children that are unwillingly being used in satanism by parents and others. He said very few children survive to talk about it, but when they do, they require much help. The radio program was nationally broadcast, as well as being on short-wave, so many countries were covered. I called in and offered FREE help (through DELIVERANCE) to anyone needing help. As soon as I hung up the phone I received a call for help. It was amazing that with such a large listening audience, I only received one call. It still baffles me that people are not "beating down the doors" of DELIVERANCE ministries for help when everyone needs DELIVERANCE.

JESUS IS THE DELIVERER
DON'T STOP HERE! SEE OUR INDEX FOR MORE ARTICLES.
THERE IS NO HATE, MALICE, RACISM, ETC. ON THIS SITE. THESE ARE SINS IN THE EYES OF GOD, AND ARE ALSO DEMONS. THE BIBLE MAKES IT CLEAR THAT SIN CANNOT GET INTO HEAVEN.