THE BLOOD OF JESUS CLEANSES YOU FROM ALL SIN AND GUILT (1 JOHN 1:7). JESUS IS THE DELIVERER!!

DEMONBUSTER.COM
DELIVERANCE MANUAL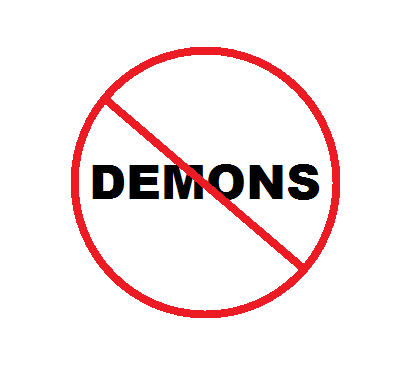 NO DEMONS ALLOWED

SPEAKING IN TONGUES

Forget all your beliefs. Forget all your teaching. Ask yourself this question - If JESUS wants to give me this free gift, do I want it? If you do, read on.
If you don't believe in Speaking in Tongues, you are wrong - period. If the below Scriptures do not change your belief, DELIVERANCE will.
I was listening to my Bible on CD, and these words JUMPED out concerning Tongues - "IN THE CHURCH". Paul is talking about the GIFT OF TONGUES (one of the nine) IN THE CHURCH. All other Scriptures having to do with Tongues is talking about OUTSIDE THE CHURCH, which is not the GIFT OF TONGUES, but your DAILY Heavenly Prayer Language.

Luke 11:9-13 - (Jesus speaking) - "And I say unto you, ask, and it shall be given you; seek, and ye shall find; knock, and it shall be opened unto you. 10/For every one that asketh receiveth; and he that seeketh findeth; and to him that knocketh it shall be opened. 11/If a son shall ask bread of any of you that is a father, will he give him a stone? or if he ask a fish, will he for a fish give him a serpent? 12/Or if he shall ask an egg, will he offer him a scorpion?
13/If ye then, being evil, know how to give good gifts unto your children: how much more shall your heavenly Father give THE HOLY SPIRIT to them that ask him?"
You must ask for THE HOLY SPIRIT.

Mark 16:17 --"And these signs shall follow them that believe; In My Name (JESUS) SHALL they CAST OUT DEMONS; they SHALL SPEAK WITH NEW TONGUES;..."
Acts 2:4--"And they were ALL filled with the HOLY SPIRIT and began to SPEAK WITH OTHER TONGUES, as the Spirit gave them utterance."
Acts 4:31--"...They were all filled with the HOLY SPIRIT, and they spoke the Word of God with boldness.
Acts 8:17--"Then they laid their hands on them, and they received the HOLY SPIRIT."
Acts 10:44--"...The HOLY SPIRIT fell on ALL them which heard the Word."
Acts 10:46--"For they heard them SPEAK WITH TONGUES, and magnify God."
Acts 19:6--"And when Paul had laid his hands upon them, the HOLY SPIRIT came on them; and they Spoke With TONGUES, and prophesied."

SPEAKING IN TONGUES-- the Heavenly prayer language that should be spoken by ALL Believers daily after being Baptized (filled) by the HOLY SPIRIT.

IT ALL STARTED HERE

Acts 2:1-4--"Now when the day of Pentecost had fully come, they were ALL with one accord in one place. And suddenly there came a sound from Heaven, as of a rushing mighty wind, and it filled the whole house where they were sitting. Then there appeared to them divided TONGUES, as of fire, and one sat upon each of them. And they were ALL filled with the HOLY SPIRIT and began to SPEAK WITH OTHER TONGUES, as the Spirit gave them utterance." All these people, including the mother of JESUS, were already BELIEVERS. Up to this point, the HOLY SPIRIT had not yet been sent to do HIS job in full.
Joel 2:28--"and it shall come to pass afterward that I will pour out my Spirit on all flesh." In 750 BC it was promised in prophecy.
Mark 16:15--"And He said to them, go into all the world and preach the Gospel to every creature." Part of the great commission is to preach and teach about the HOLY SPIRIT, TONGUES, AND CASTING OUT DEMONS. Are you doing this?
Luke 24:49--"Behold, I send the PROMISE of My Father upon you; but tarry in the city of Jerusalem until you are endued with Power from on high." We are COMMANDED to receive the HOLY SPIRIT.
John 4:23 "But the hour cometh, and now is, when the TRUE WORSHIPERS shall worship the Father IN Spirit and in truth: for the Father seeketh such to worship him." JESUS said we should worship IN THE Spirit (TONGUES).
John 4:24 JESUS said, "God is a Spirit: and they that worship him must worship him IN Spirit (TONGUES) and in truth." JESUS Spoke in TONGUES in Luke 10:21--"In that hour JESUS rejoiced IN Spirit,..."
John 14:15-17--"If you love Me, keep My commandments (ALL OF THEM, NOT JUST TEN OF THEM). And I will pray the Father, and He will give you another Helper, that He may abide with You forever, even the Spirit of Truth, whom the world cannot receive (SO YOU MUST BE SAVED FIRST), Because it neither sees Him nor knows Him; but you know Him, for He dwells with you and will be in you." The HOLY SPIRIT is another Comforter and Spirit of Truth.
John 14:26--"But the Helper, the HOLY SPIRIT, who the Father will send in My name, He will teach you all things, and bring to your remembrance all things that I said to you." The HOLY SPIRIT is the Teacher.
Acts 2:33--"Therefore being exalted to the right hand of God, and having received from the Father the Promise of the HOLY SPIRIT, He poured out this which you now see and hear." People saw and heard TONGUES on the day of Pentecost.
Acts 2:39--"For the promise is to YOU AND to YOUR CHILDREN, AND to ALL who are afar off, as many as the Lord our God will call." The HOLY SPIRIT is promised to ALL.
Acts 8:15--"Who, when they had come down, prayed for them that they might receive the HOLY SPIRIT." They did! Peter and John were sent to Samaria to Believers who were previously Saved, but had not yet SPOKEN IN TONGUES.
Acts 10:44--"While Peter was still speaking these words, the HOLY SPIRIT fell upon ALL those who heard the word." This was the Roman centurion Cornelius (a Believer). He and everyone who heard Peter were FILLED with the HOLY SPIRIT and SPOKE IN TONGUES.
Acts 19:6--"And when Paul had laid hands on them, the HOLY SPIRIT came Upon them, and they Spoke with TONGUES and Prophesied." At Ephesus, Paul found these DISCIPLES who had not heard of the HOLY SPIRIT, EVEN THOUGH THEY WERE SAVED.
Romans 8:26--"Likewise the Spirit also helps in our weaknesses. For we do not know what we should pray for as we ought, but the Spirit Himself makes intercession for us with groanings which cannot be uttered." In our weakness, intercession comes from the HOLY SPIRIT. JESUS groaned in the Spirit in John 11:33.
If someone called you right now and said, "I can't talk now. Just pray for me.", and then hung up, how would you pray? What would you pray for? Romans 8:26 says to pray IN THE Spirit (TONGUES), and the right prayer request gets through to the Throne of God.
I know a woman who said she woke up suddenly at 3 in the morning with this urgency to pray for a certain friend. She started PRAYING IN TONGUES, not knowing what to pray for. Later she found out that this friend was involved in a severe automobile accident AT 3 A.M. The woman recovered, but may not have if her friend did not believe in PRAYING IN TONGUES.
1 Corinthians 14:2--"For he who SPEAKS IN A TONGUE does not speak to men but to God, for no one understands him; however, in the Spirit (TONGUES) he speaks mysteries." Speaking in TONGUES speaks to God and no man understands. On the day of Pentecost, they SPOKE IN TONGUES, BUT, the people below HEARD in their own language. Peter was not speaking in Polish. He was SPEAKING IN TONGUES!
1 Corinthians 14:4--"He who speaks in a Tongue edifies himself." It edifies the person Speaking in TONGUES. It makes you feel good.
I Corinthians 14:18, "I thank my God, I SPEAK WITH TONGUES more than ye all:" (Paul speaking).
I Corinthians 14:39, "Wherefore, brethren, covet to Prophesy, and FORBID NOT TO SPEAK WITH TONGUES." Paul said this. Are you guilty of this?
Jude 1:20--"But you, beloved, building yourselves UP on your most holy faith, praying in the HOLY SPIRIT (TONGUES)." Speaking in TONGUES builds UP your faith.

This lesson concerns your DAILY "Prayer Language", "Heavenly Language", "Speaking in TONGUES", which you can do at ANY time. I Thessalonians 5:17 says, "PRAY WITHOUT CEASING." In English (or any foreign language), this is impossible. However, IN TONGUES, it IS possible because you can PRAY IN TONGUES under your breath while working or listening to someone else talk. Try it, especially when someone is being rude to you.
Do not confuse this with the "GIFT OF TONGUES" as recorded in I Corinthians 12:10. This "divers kinds of TONGUES" is one of the nine Gifts of the HOLY SPIRIT. Everyone does NOT get the GIFT OF TONGUES because Verse 11 says the HOLY SPIRIT divides "to every man severally AS HE WILL." However, there is nothing wrong with asking the Lord for ALL nine Gifts. You should desire to have all God has to offer, especially since it is FREE, and a mighty weapon in the arsenal of Spiritual Warfare.
During some of our DELIVERANCE sessions when the demon is being stubborn, we pray out loud in TONGUES. Usually, the person immediately covers their ears with their hands because the demons apparently can understand. The demons absolutely hate for you to pray in TONGUES at any time.
By the way, the demons can also speak in TONGUES, but it is coming from the spirit of the devil. You almost cannot tell the difference, which is why we have cast OUT many demons of FALSE TONGUES.

Sometimes demons keep people from being able to SPEAK IN TONGUES. Most of the time, this demon's name is "BLACKWELL". Cast this demon OUT if you are having problems SPEAKING IN TONGUES. Also cast OUT WITCHCRAFT, MIND CONTROL, MIND BINDING, MIND OCCULT, UNBELIEF, DOUBT, SPIRITUAL LOCK JAW, FALSE TEACHING, FALSE DOCTRINES, FALSE TONGUES, FALSE GIFTS, DECEPTION, LIE THAT TONGUES ARE FROM THE DEVIL, LIE THAT IF GOD WANTS ME TO SPEAK IN TONGUES I WILL, LIE THAT SPEAKING IN TONGUES IS SPIRITUAL ADULTERY, ETC.

HOW DO YOU RECEIVE THE HOLY SPIRIT?

FIRST, remember who the Baptizer is -- JESUS CHRIST. Matthew 3:11 - "He will baptize you with the HOLY SPIRIT and fire."
SECOND, yield to God. He must use your vocal cords. Acts 2:4 - "And they were all FILLED with the HOLY SPIRIT and began to SPEAK WITH Other TONGUES, as the Spirit gave them utterance."
THIRD, ask JESUS to fill you with the HOLY SPIRIT with the EVIDENCE of Speaking in TONGUES. Start praying out loud.

You do NOT have to "tarry" like the disciples of the upper room. You can have this free gift RIGHT NOW.

You don't know what you are missing by not SPEAKING IN TONGUES on a daily basis.

YOU DO NOT HAVE TO SPEAK IN TONGUES TO MAKE IT TO HEAVEN.

JESUS IS THE DELIVERER
DON'T STOP HERE! SEE OUR INDEX FOR MORE ARTICLES.
THERE IS NO HATE, MALICE, RACISM, ETC. ON THIS SITE. THESE ARE SINS IN THE EYES OF GOD, AND ARE ALSO DEMONS. THE BIBLE MAKES IT CLEAR THAT SIN CANNOT GET INTO HEAVEN.