THE BLOOD OF JESUS CLEANSES YOU FROM ALL SIN AND GUILT (1 JOHN 1:7). JESUS IS THE DELIVERER!!

DEMONBUSTER.COM
DELIVERANCE MANUAL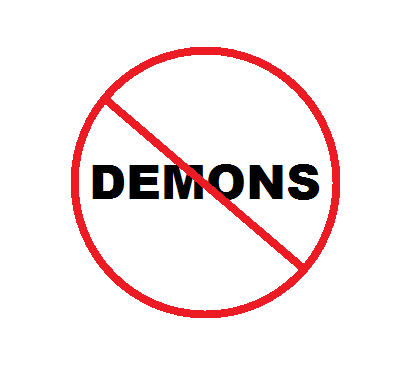 NO DEMONS ALLOWED

DELIVERANCE TRACT

DELIVERANCE

Have you prayed for the same old problem time and time again? Have you been prayed for at church to no avail for fear, depression, temper, etc.? If it hasn't worked, you need DELIVERANCE (DRIVING OUT OF DEMONS). It works!
JESUS CHRIST said in MATTHEW 10:8-"Cure the sick, raise the dead, cleanse the lepers, DRIVE OUT DEMONS: Freely (without pay) you have received, freely (without charge) give."
MARK 16:17-"And these attesting signs will accompany those who believe: in MY NAME they will DRIVE OUT DEMONS..."
LUKE 13:32-"...I DRIVE OUT DEMONS and perform healings today and tomorrow..."
WE HAVE NEVER MET ANYONE WHO DID NOT HAVE DEMONS Joel 2:32 And whoever shall call on the name of the Lord shall be DELIVERED. . .
Mark 16:17 And these attesting signs will accompany those who believe: in My Name they will drive out demons. .
JESUS' ministry was threefold: He taught, healed the sick and drove out demons.
JESUS said in Mark 16:17, "if you believe you will drive out demons".
In Matthew 15:22-26 and Mark 7:25-27 the heathen woman wanted a demon driven out of her daughter. In these scriptures JESUS speaks of DELIVERANCE as the children's bread. Thus DELIVERANCE is for the children of God.
JESUS speaking to Peter said, "get behind me Satan", when Peter let the demon speak through him.
Mark 7:21-23 JESUS said out of the heart of man comes base and wicked thoughts, sexual immorality, stealing, murder, adultery, coveting (a greedy desire to have more wealth), dangerous and destructive wickedness, deceit, unrestrained (indecent) conduct, an evil eye (envy), slander, pride, foolishness, all these evil [purposes and desires] come from within, and they make the man unclean and render him unhallowed.
Hosea 4:6 God said my people are destroyed for lack of knowledge.
The churches today do not teach nor do they understand what demons are.
Fear, anger, temper, depression, suicide, diseases of all kinds, etc. are demons. In Mark 7-21-23 above JESUS himself named several demons.
People go to church and have prayer for years for situations that are caused by demons. The only way to have the situations changed is to have the demons cast out.
CURSES Galatians 3:13 says that JESUS became a curse for us. In the Greek this word curse means curse, not sin. The curses were not instantly broken in our lives with salvation. Just as you were not healed when you were saved (unless you received a miracle) the curses were not broken and the demons didn't come out. You must appropriate this by breaking the curse in The Name of JESUS. Unless these words were spoken, it did not happen.
Deuteronomy 27 and 28 talk about the Blessings and Curses and how they passed down to the third and fourth generations (four generations is 160 years).
Deuteronomy 23 speaks of a 10 generation (400 years) curse if someone in your family line had an illegitimate child. This curse causes sexual problems and sexual diseases along with other problems.
These curses must be broken in THE NAME OF JESUS and the demons cast out.
Witchcraft is another 160 year curse. Have you read your horoscope in the paper or magazine? You (innocently) put a curse on you, your children, grandchildren, and great grandchildren. Again, these must be broken in THE NAME OF JESUS after repentance and renouncing.
Breaking curses and casting out demons is the answer to your problems.
The word salvation is listed in the bible 163 times. The Greek definition for this word lists names such as: health, healing, prosperity, etc. However, in every definition the word deliver or DELIVERANCE is used.

JESUS IS THE DELIVERER
DON'T STOP HERE! SEE OUR INDEX FOR MORE ARTICLES.
THERE IS NO HATE, MALICE, RACISM, ETC. ON THIS SITE. THESE ARE SINS IN THE EYES OF GOD, AND ARE ALSO DEMONS. THE BIBLE MAKES IT CLEAR THAT SIN CANNOT GET INTO HEAVEN.