THE BLOOD OF JESUS CLEANSES YOU FROM ALL SIN AND GUILT (1 JOHN 1:7). JESUS IS THE DELIVERER!!

DEMONBUSTER.COM
DELIVERANCE MANUAL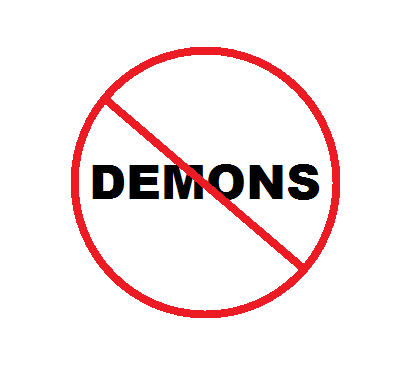 NO DEMONS ALLOWED

REBELLION TRACT

For REBELLION is as the sin of witchcraft, and stubbornness is as idolatry and teraphim (household good luck images). 1 Samuel 15:23
According to the word of God REBELLION carries many curses: death, being cut off from the Lord, enslaved by our enemies (demons), etc. As you read the scriptures listed you will see many demons and disasters associated with REBELLION.
An evil man seeks only REBELLION; therefore a stern and pitiless messenger shall be sent against him. Proverbs 17:11
Saul's REBELLION caused God to send a demon to him and he became insane. (1 Samual 16:14-23 and 18:10)
Saul's REBELLION caused death to himself and his son and all of his descendants (except one).
They refused to obey, nor were they mindful of your wonders and miracles which you did among them; but they stiffened their necks and in their REBELLION appointed a captain, that they might return to their bondage [in Egypt]. But You are a God ready to pardon, gracious and merciful, slow to anger, and of great steadfast love; and You did not forsake them. Therefore You DELIVERED them into the hand of their enemies, who distressed them. In the time of their suffering when they cried to You, You heard them from heaven, and according to Your abundant mercy You gave them DELIVERERS, who saved them from their enemies. Nehemiah 9:17
Saul's REBELLION caused his kingdom to be torn. We can relate this to our homes, families, children, jobs. It is no wonder that our teenagers are so rebellious. The 160 year curse from the great-grandparents, then the 3rd generation curse from the grandparents, then the generation curse from us. No books can tell you what to do or how to raise your children. It is the curse of REBELLION and must be broken in THE NAME OF JESUS and the demons cast out...... Then we will prosper and be fruitful as the Word of God speaks.
The curse of REBELLION influences our lives in a great many ways but thank God that JESUS became a curse for us (Galatians 3:13). However, you must break the curses and cast out the demons in THE NAME OF JESUS.
Read:
Deuteronomy 31:27; Joshua 22:22; Ezra 4:10; Job 34:37; Jeremiah 28:16 and 29:32
The next step is to confess your iniquities and yours ancestors iniquities and break the Curse of REBELLION:
A sample prayer is: Father, In JESUS Name, I confess and repent and ask you to forgive me and my ancestors for the sin and iniquity of REBELLION. I go back ten generations on both sides of my bloodline and In The Name of JESUS, I break the curse of REBELLION in my life.
Now cast the demons out in The Name of JESUS. If possible you need to find a DELIVERANCE Ministry to help you with the casting out of demons.
DEMONS: REBELLION, murder, retaliation, bitterness, unforgiveness, violence, temper, anger, self-will, stubbornness, disobedience, anti-submissiveness, etc. (This is not a complete list but one that you can begin with.)

We are amazed at the DELIVERANCE people who are still in bondage or under control of local churches not involved in DELIVERANCE. The Lord says in Ezekiel 3:7-9 "BUT THE HOUSE OF ISRAEL IS NOT WILLING TO LISTEN TO YOU, FOR THEY ARE NOT WILLING TO LISTEN TO ME; FOR ALL THE HOUSE OF ISRAEL ARE STRONG OF FOREHEAD AND HARD OF HEART. BEHOLD, I HAVE MADE YOUR FACE STRONG OVER AGAINST THEIR FACES, AND YOUR FOREHEAD STRONG OVER AGAINST THEIR FOREHEADS. I HAVE MADE YOUR FOREHEAD AS ADAMANT HARDER THAN FLINT. DO NOT FEAR THEM. AND DO NOT BE BOWED DOWN BY THEIR FACES, THOUGH THEY ARE A HOUSE OF REBELLION." REBELLION is as the sin of witchcraft. If you believe the Lord is wanting to keep you there to teach DELIVERANCE, next church service go up to the Pastor and tell him he has demons, and you would like to cast them OUT, in JESUS' name.

JESUS IS THE DELIVERER
DON'T STOP HERE! SEE OUR INDEX FOR MORE ARTICLES.
THERE IS NO HATE, MALICE, RACISM, ETC. ON THIS SITE. THESE ARE SINS IN THE EYES OF GOD, AND ARE ALSO DEMONS. THE BIBLE MAKES IT CLEAR THAT SIN CANNOT GET INTO HEAVEN.