THE BLOOD OF JESUS CLEANSES YOU FROM ALL SIN AND GUILT (1 JOHN 1:7). JESUS IS THE DELIVERER!!

DEMONBUSTER.COM
DELIVERANCE MANUAL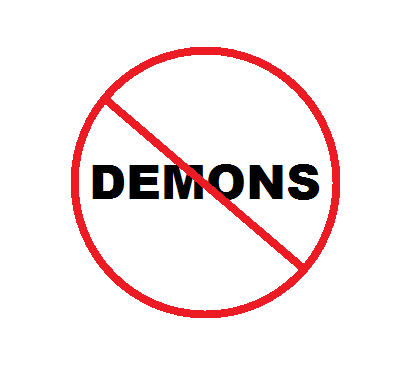 NO DEMONS ALLOWED

TROLLS

The following is quoted from an email we received from a mother on Sunday, September 20, 1998:
"On Saturday evening I was watching television when my daughter of 2 came out of her room to tell me that her doll was moving by itself. I assumed that it probably fell off the shelf so to satisfy her I got up and went to her room . when I got there to my surprise she had a stuffed troll doll dancing in the middle of her bedroom floor to a Disney movie playing music . Being raised in church I began pleading the blood of Jesus and commanded that spirit to leave then the doll went limp and fell over on the floor. I took the doll outside my house and burned it. What would cause something like this to happen?"

"PARENTS BEWARE!" Demon images are taking over the Toy Departments and the cartoon programming on your television! These images show up in the forms of Charms, Trolls, Monsters, and violence...signs of Pagan Idolatry carefully camouflaged...like Trolls with Demonic faces...but dressed in cute little "dolly" clothes to be accepted as a toy and hugged and loved by a child.
Let's examine the origin of Trolls. Where did they come from? These cute, ugly Demons that have captivated American children epitomize today's delight in "new-paganism" when joined to popular ideals. While the "Trolls of Scandinavian Fairy Tales would uproot trees, enslave beautiful ladies and turn people into stone with cruel spells, the toy makers are quoting poems and sayings to try and seduce and deceive the REAL origin of these Demons. For Example: "There was a time...when waters were clean and forests untouched...When ancient legends spoke of "Guardians of the Earth."
In Scandinavian lands, these mysterious creatures were Trolls...and were known to guard what was left of the Earth's natural treasures. This theory of fantasy can only help to encourage "New Age" thinking...like "Mother Earth...save our environment"...as if God would create anything that would not last, until He was ready for it to disappear. But, if our little children are introduced to these myths at such a young age...as they grow...satan can introduce this fantasy lie and encourage it to be accepted as truth.
It was said the "trolls" were rarely seen, people believed and pretended. Isn't it strange today these nearly forgotten Demon creatures are once again in our midst...working their Earth magic to help Humans? More of Satan's lies flowing out to capture the mind and control it."

Just found this in our BIG dictionary:
"In Scandinavian folklore, any of a race of supernatural beings, sometime conceived as giants and sometime as dwarfs, inhabiting caves or subterranean dwelling. [1610-20; <ON troll demon]."
(ON is OLD NORSE LANGUAGE)

JESUS IS THE DELIVERER
DON'T STOP HERE! SEE OUR INDEX FOR MORE ARTICLES.
THERE IS NO HATE, MALICE, RACISM, ETC. ON THIS SITE. THESE ARE SINS IN THE EYES OF GOD, AND ARE ALSO DEMONS. THE BIBLE MAKES IT CLEAR THAT SIN CANNOT GET INTO HEAVEN.