THE BLOOD OF JESUS CLEANSES YOU FROM ALL SIN AND GUILT (1 JOHN 1:7). JESUS IS THE DELIVERER!!

DEMONBUSTER.COM
DELIVERANCE MANUAL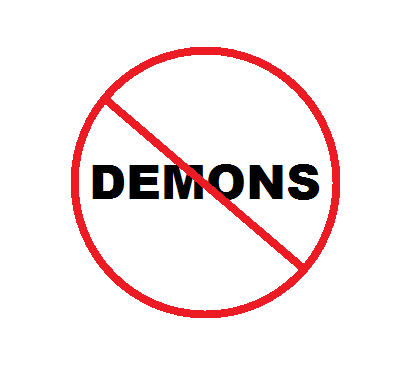 NO DEMONS ALLOWED

UNDERSTANDING DELIVERANCE

Daniel 12:4, 8, 9, 10
4) "But you, O Daniel, shut up the words and seal the book until the time of the end. [Then] many shall run to and fro and search anxiously [through the book], and knowledge [of God's purposes as revealed by His prophets] shall be increased and become great.
8) And I heard, but I did not understand. Then I said, O my Lord, what shall be the issue and final end of these things?
9) And he [the angel] said, Go your way, Daniel, For the words are shut up and sealed till the time of the end.
10) Many shall PURIFY themselves and make themselves white and be tried, smelted, and refined, but the wicked shall do WICKEDLY. And none of the wicked shall understand, but the teachers and those who are wise shall understand."
The knowledge, understanding and wisdom of DELIVERANCE according to Mark 16:17 is given to us by revelation from God. Simon Peter was told in Matthew 16:17 that his (Peter's) knowing that JESUS was "the Christ, the Son of the Living God" was revealed to him by God, NOT flesh and blood. Flesh and blood will never understand DELIVERANCE. DELIVERANCE exposes satan and the demons and they will use fear, religion, pride, etc. to keep the "true" children of God from believing the truth that they have demons. God's word says we are destroyed for lack of knowledge. He also tells us to be wise as serpents and that God is a Spirit and can only be worshiped in Spirit and Truth.
Hebrews 6 tells us to get past the elementary stage in teachings and doctrine of Christ and go on toward the completeness and perfection that belong to spiritual maturity. According to Daniel 4:10, you will PURIFY yourself or you will do WICKEDLY. This is the bottom line. These are the only two paths to take.
Mark 16:17 "And these attesting signs will accompany those who believe: In My Name they will cast OUT demons...".

JESUS IS THE DELIVERER
DON'T STOP HERE! SEE OUR INDEX FOR MORE ARTICLES.
THERE IS NO HATE, MALICE, RACISM, ETC. ON THIS SITE. THESE ARE SINS IN THE EYES OF GOD, AND ARE ALSO DEMONS. THE BIBLE MAKES IT CLEAR THAT SIN CANNOT GET INTO HEAVEN.