-- This is NOT the website of Gene Moody. It is the website of DEMONBUSTER.COM.

THE BLOOD OF JESUS CLEANSES YOU FROM ALL SIN AND GUILT (1 JOHN 1:7).
JESUS IS THE DELIVERER!!

DEMONBUSTER.COM
GENE AND EARLINE MOODY
DELIVERANCE MANUAL

MAIN PAGE IS AT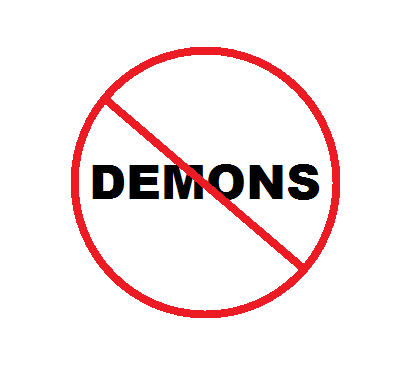 NO DEMONS ALLOWED

VISIONS GIVEN TO ANNIE

ANGELS
There are many classes of angelic beings; some may have wings and be very large. Guardian angels are very similar to the warrior angels. Angels stand in order in rank and file, and at attention.
JESUS CHRIST
Our thinking can cause Him sadness, pain and grief; He weeps with us. Everything that causes pain and comes from His hand is actually wonderful and desirable. All the woundings, pains and fires through which He permits His own to pass become progressively more beautiful. The vicissitudes, persecutions, spiritual attacks, pains and trouble of this life are all His beautiful fire that purifies His own. He will reprimand us. Nothing at all depends on chance.
He shall always give us His strength to fulfill His desires. Even though surrounded by Hell itself, He will be with us. Evil forces with all their strength and fury can not reach His people to hurt them.
HIS PEOPLE
There are a large number of warriors who belong to Him. Fear not the battle that He has set before us, for each victory will make us become even more of overcomers.
We must have fellowship, worship and fear of the Lord. The fruit of our lives is far greater and more complete than we can ever imagine. The Force of Brokenness will bring His own into special power. The Power of Weakness is a mighty power of God. The great storm of evil will come to test and try His own ones.
Those of His people who are truly His subjects and are under His control, those who fear Him and obey him, are always surrounded by an army of His angels. There will be a place of refuge in the day of great anguish. God will give us an impassable barrier to all the destructive forces of the storm.
NOT HIS PEOPLE
If they insist upon going beyond these limits and pass through the outside of these fires which He has placed around them, they shall in no wise return to Him. Those who hate Christ refused His power, kingdom and person. Continuing in their sin, they plunged over the face of that great abyss into perdition.
False shepherds, strong sons of darkness, led those who belong to Him into strange and wrong paths causing them to stray from the path of righteousness. They even used His Name to bring forth miracles, yet they were not His workmen; deep within their beings they had part of the Devil. Some abandoned His love and were now manufacturing an empty, artificial love of their own. Something very ambitious and almost lustful began to possess them as they wanted to take hold of more than He had given to them.
The Devil's own were so good that no one except God and the Devil knew that they were in reality sons of the evil one. There are those who have been brought under the power of deceit in slow, small stages and little by little; it worked by permission of their own will. The sons of darkness were calling for an evil power of pride.
There are those who had mixed together with His own and in clear defiance of God were trying to draw them away from Him. These wicked ones were trying to mix with them and be one with them, entering into where they did not belong.
There are those that actually believe that they would see the Devil defeat God. How terrible that day will be for them. Evil men took this evil from these storehouses and utilized it upon the earth.
THIS WORLD
This world is ugly, twisted and filled with terrible things. Our world is filled with woes, evils and warped thinking. There is a world-shattering, great tide of evil sweeping over the earth.
EVIL FORCES
Secrets of the mysterious working of His enemies who are sad, black and evil. The people are filled with haughtiness, pride and high-mindedness. Evil angels of light reflect themselves in men. Devils are of different sizes. The enemy desires at all costs to hide from reality what he is doing. Evil has kingdoms, spiritual powers and dominions.
STORM OF TRIBULATION
The great storm of affliction, persecution and trouble, hate and fury, great suffering and destructive force in persecution and hatred with its pain and bloodshed is coming. There will be strong pains, provocations and suffering, black and terrible evil, reactions and martyrdoms, much suffering, and all kinds of persecutions. It has evil potent and terrible power, darkness, destruction and pain. The storm of darkness is composed of the forces of death and destruction.
EVIL SPIRITS
The prince of evil was loosed on September 3, 1971 who will use many astute wiles of evil. Spirits of evil will unite sexual perversion, violence, thievery, lust, avarice, etc. From high spiritual spheres come forth the organization, orders, powers and pangs of darkness.
There are great princes of evil. By giving forth of their evil to their own subject forces in the lower spheres upon the earth, they are able to extend themselves. Demons with greatest intelligence and astuteness feed out from their own evil natures, the evil nature of those that belonged to them.
REFERENCES
I Looked And I Saw The Lord, I Looked And I Saw Mysteries, I Looked And I Saw The Heavens Opened, and Visions Given To Annie as told to R. Edward Miller

JESUS IS THE DELIVERER