THE BLOOD OF JESUS CLEANSES YOU FROM ALL SIN AND GUILT (1 JOHN 1:7). JESUS IS THE DELIVERER!!

DEMONBUSTER.COM
DELIVERANCE MANUAL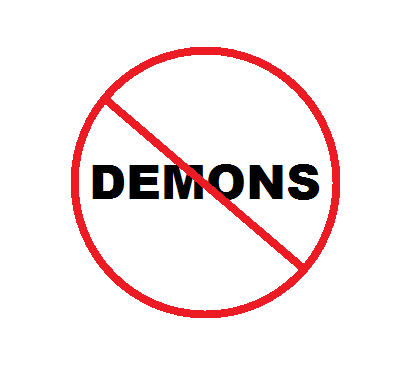 NO DEMONS ALLOWED

WEAPONS OF OUR WARFARE

We received the following Prophecy from the Lord through a True Prophet of God on September 28, 1998. It pertains to anyone involved with DELIVERANCE.
"The Lord declares:

PEOPLE OF GOD, WHAT YOU HAVE BEEN WARRING WITH UNTIL THIS TIME WAS NOT WAR, BUT SPARRING MATCHES. LIKE CHILDREN WITH STICKS IN THEIR HANDS PLAYING AT THE GAME OF WAR. AND I SAY TO YOU THAT YOUR BATTLE HAS NOW BEGUN. THE GAUNTLET HAS BEEN THROWN. IT IS A NEW SEASON OF LIFE OR DEATH. ALL OF THE EQUIPMENT YOU HAVE BEEN GIVEN WILL NOW BE ADDED TO AND YOU MUST USE WHAT I GIVE YOU, SAYS THE LORD. DO NOT LAY ANYTHING DOWN OR STORE THE WEAPONS AWAY, AS THE ENEMY OF YOUR SOUL IS FIERCE AND HE IS RAGING HIS MIGHTY WAR. SHOUT AT HIM IN MY NAME! I CANNOT HEAR YOUR PLEAS FOR HELP, AS I HAVE ALREADY EQUIPPED YOU TO USE WHAT I HAVE GIVEN YOU. TEACH MY PEOPLE TO USE WHAT I HAVE GIVEN, AS NOW IS THE HOUR OF SEVERE BATTLE. MANY WILL BE LOST, MANY WILL BE MAIMED, MANY WILL FALL INTO THE SNARES OF THE ENEMY AND I, THE LORD YOUR GOD, TELL YOU TO TRAIN THEM, AS I GIVE THIS MANTLE TO YOU. IN ALL THE PLACES I SEND YOU, THERE WILL BE A FAMINE IN THE LAND. AND THERE YOU WILL SEE THE WOUNDED, THE DYING, THE ONES WHO HAVE FALLEN ASIDE. PICK THEM UP, GIVE THEM NOURISHMENT, TRAIN THEM, I SAY, TRAIN THEM OR THEY WILL DIE. I DO NOT WANT TO LOSE ANY OF MY SHEEP AND I HAVE CALLED YOU TO LEAD THEM, TO NOURISH THEM, TO PROTECT THEM AND TO TRAIN THEM. LET ALL HINDRANCES TO THIS MANDATE BE SEVERED FROM YOUR LIFE, AS THE ENEMY OF YOUR SOULS HAS ATTACHED TO WHAT YOU CONSIDER MINOR. COMMAND HIM TO LOOSE YOU! TEAR OFF THE
SHACKLES, THROW THEM IN THE DUST. LIFT UP YOUR VOICE AND YOUR HANDS TO ME AND DRINK OF MY STRENGTH AND POWER. PICK UP THE GAUNTLET THAT HAS BEEN THROWN AND TAKE UP THE SWORD AND THE SPEAR. YOU HAVE BEEN CALLED FOR SUCH A
TIME AS THIS AND I, THE LORD YOUR GOD, COMMAND THIS DAY TO FIGHT AS YOU NEVER HAVE BEFORE. MY WEAPONS WILL SEEM FOREIGN TO YOU, STRANGE. BUT THEY ARE NEW AND TRUST THEY ARE OF ME. IF YOU HESITATE IN THIS HOUR, IF YOU QUESTION ME AND DELAY, YOU WILL LOSE GROUND AND MANY WILL PERISH.
I HAVE SPOKEN AND RELEASE MY WORD. FROM THIS HOUR ON, THERE WILL BE A RAGING WAR. THE HEAT OF THE BATTLE HAS NOW BEGUN, SAYS THE SPIRIT OF THE LIVING GOD."

Over and over we talk with people who do not understand the difference in praying and warfare. Many people are being destroyed because they are not taught how to fight the enemy that is warring against them. Casting out demons is part of the fight against the enemy that is out to destroy us. We get our strength from worshipping Jesus and praising Him and singing songs to Him and praying in tongues and reading the Word of God. So whenever we are in a battle and we feel weak we take time to worship our Lord and Savior, read His Word, pray in tongues, and do DELIVERANCE.
Every "Child of God" has a duty to do warfare against the enemy. The battle comes whether we want it or not. We have a vicious enemy (satan) who hates our Lord and hates us. Jesus said to Peter in Luke 22:31 "Simon, Simon (Peter), listen! Satan has asked excessively that [all of] you be given up to him [out of the power and keeping of God], that he (satan) might sift [all of] you like grain". Jesus also said in John 10:10 "The thief comes only in order to steal and kill and destroy..."
Paul said in II Corinthians 10:3-4 "For though we walk (live) in the flesh, we are not carrying on our warfare according to the flesh and using mere human weapons. For the weapons of our warfare are not physical [weapons of flesh and blood], but they are mighty before God for the overthrow and destruction of strongholds." If there is not a battle, why do we have weapons?
Jesus has given us power over the enemy. He told us in Luke 10:19 "Behold! I have given you authority and power to trample upon serpents and scorpions, and [physical and mental strength and ability] over all the power that the enemy [possesses]; and nothing shall in any way harm you."
David understood warfare and he knew who the enemy was. In Psalm 139:22-24 he stated, "Do I not hate them, O Lord, who hate You? And am I not grieved and do I not loathe those who rise up against You? 22) I hate them with perfect hatred; they have become my enemies." David was correct in hating God's enemies and we see his heart as he goes on and cries out to God in verse 23) "Search me [thoroughly], O God, and know my heart! Try me and know my thoughts! 24) And see if there is any wicked or hurtful way in me, and lead me in the way everlasting." It is very important that we cast out the demons that are in us that the enemy would be able to use against us. My friend and beloved of God, we are not playing a game. It is time for the body of Christ to grow up and mature and stop playing church. With all the violence, sin and murder going on around us and in our own house, we must get the mixture of religion out of us and stand before God with a pure heart. Matthew 5:8
Paul concluded Ephesians 6 talking about warfare. He said in verse 10, "Be strong in the Lord [be empowered through your union with Him]; draw your strength from Him [that strength which His boundless might provides]. 11) Put on God's whole armor [the armor of a heavy-armed soldier which God supplies], that you may be able successfully to stand up against [all] the strategies and the deceits of the devil. 12) For we are not wrestling with flesh and blood [contending only with physical opponents], but against the despotisms, against the powers, against [the master spirits who are] the world rulers of this present darkness, against the spirit forces of wickedness in the heavenly (supernatural) sphere. 13) Therefore put on God's complete armor, that you may be able to resist and stand your ground on the evil day [of danger], and, having done all [the crisis demands], to stand [firmly in your place]. 14) Stand therefore [hold your ground], having tightened the belt of truth around your loins and having put on the breastplate of integrity and of moral rectitude and right standing with God, 15) And having shod your feet in preparation [to face the enemy with the firm-footed stability, the promptness, and the readiness produced by the good news] of the Gospel of peace. 16) Lift up over all the [covering] shield of saving faith, upon which you can quench all the flaming missiles of the wicked [one]. 17) And take the helmet of salvation and the sword that the Spirit wields, which is the Word of God. 18) Pray at all times (on every occasion, in every season) in the Spirit, with all [manner of] prayer and entreaty. To that end keep alert and watch with strong purpose and perseverance, interceding in behalf of all the saints (God's consecrated people)." These scriptures cover it all. It explains who the battle is with, and describes the levels of power of the enemy; then Paul goes on to explain how to battle, when to stand, and how to pray; and most importantly we cannot battle without the Lord. Someone told us that God does not lead us into battle to lose the battle, but to win.
Fasting is a weapon for us to use to break the bondage of the enemy. Isaiah 58:6 "[Rather] is not this the fast that I have chosen: to loose the bonds of wickedness, to undo the bands of the yoke, to let the oppressed go free, and that you break every [enslaving] yoke?" Verse 8 "Then shall your light break forth like the morning, and your healing (your restoration and the power of a new life) shall spring forth speedily; your righteousness (your rightness, your justice, and your right relationship with God) shall go before you [conducting you to peace and prosperity], and the glory of the Lord shall be your rear guard. 9) Then you shall call, and the Lord will answer; you shall cry, and He will say, Here I am. If you take away from your midst yokes of oppression [wherever you find them], the finger pointed in scorn [toward the oppressed or the godly], and every form of false harsh, unjust, and wicked speaking."
Casting out demons is another weapon to break the bondage of the enemy. Mark 16:17 says that believers who believe shall cast out demons in Jesus' name. This part of our warfare is very important because if we have areas in us that the enemy can use against us, believe me, he will use them. Every weakness (demon) that we have the enemy will use to steal, kill and destroy us.
Binding and Loosing are weapons used to prevail against the gates of hell. (Matthew 16:18, 19) Matthew 12:29 says, "Or how can a person go into a strong man's house and carry off his goods (the entire equipment of his house) without first binding the strong man? Then indeed he may plunder his house." Satan had bound a woman with a spirit of infirmity and Jesus loosed her from her bondage. Luke 13:11-17
In Revelations, Jesus sent messages to the churches and after every message He stated, "To him who overcomes (conquers)..." Revelation 2:7, 11, 17, 26-29; 3:5, 12, 21. In the Thesaurus, some of the synonyms of overcome are: beat, conquer, defeat, endure, master, outdo, overpower, overthrow, prevail over, subdue, triumph over and win. Does this sound like battle?
When Joshua was called to warfare by the Lord, the Lord said to him, "Only be thou strong and very courageous..." Joshua 1:7 Again, the Lord did not call us to battle (warfare) to lose and in Joshua 1:9 He said, "This Book of the law shall not depart out of thy mouth; but thou shalt meditate therein day and night, that thou mayest observe to do according to all that is written therein: for then thou shalt make thy way prosperous, and then thou shalt have good success."
What better guarantee do you want than to have the Living God take you into battle and bring you out successfully? According to God's Word, we win. Praise the Lord. So continue the warfare with praising the Lord Jesus, praying in tongues, casting out demons, binding and loosing, fasting, and when you have done all, to stand - STAND and know in your heart that Jesus is the DELIVERER and was manifest to destroy the works of the devil. (John 3:8)
We have not talked about warfare against witches, etc. You can take these same principles of the Word of God and use them against witchcraft.

JESUS IS THE DELIVERER
DON'T STOP HERE! SEE OUR INDEX FOR MORE ARTICLES.
THERE IS NO HATE, MALICE, RACISM, ETC. ON THIS SITE. THESE ARE SINS IN THE EYES OF GOD, AND ARE ALSO DEMONS. THE BIBLE MAKES IT CLEAR THAT SIN CANNOT GET INTO HEAVEN.