DEMONBUSTER.COM
DELIVERANCE MANUAL

THE BLOOD OF JESUS CLEANSES YOU FROM ALL SIN AND GUILT
(1 JOHN 1:7).
IF you ask Jesus into your life.
JESUS IS THE DELIVERER!!

OUR MAIN PAGE IS AT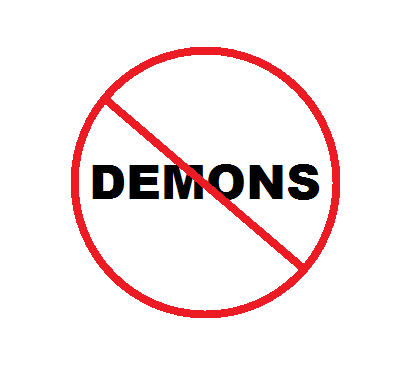 NO DEMONS ALLOWED

CURSES ON WOMEN

Curses Placed on Women to Cause Them to Be Unsuccessful
or Failures in Ministry and Business

As I (Elizabeth) was praying the other day the Lord spoke to me about breaking the curse placed on me as a woman to cause me not to be successful or become a failure in my business. As I was praying and breaking this curse I realized that this curse would also affect the ministry that the Lord has called me to.
As we all know, until the last few years, women in the work place have been hired at lower salaries as men even though they may do the same work. The men have said that women should not be paid the same because they are not the heads of their households. This day we know that that statement is not true. More women are without a husband and are raising their children and taking over as the head of the house. Also, in the church some men have said that women should not be allowed to minister. The thoughts and words spoken against us regarding our salaries, positions at the work place or places of ministry have put curses on us to keep us from being successful or cause us to be failures. Even though in the last few years things have changed and women are being paid better and more women are being allowed to minister – the curses are still there. These curses will keep women at a certain level mentally, spiritually and financially.
The Word of God says in Galatians 3:13 "Christ hath redeemed us from the curse of the law, being made a curse for us: for it is written, Cursed [is] every one that hangeth on a tree". The meaning of the word curse here is curse. So in the Name of Jesus we break the curse placed on us to cause us to be unsuccessful or failures in the work place, businesses and ministry.
Sample Warfare Prayer to break these curses:
Father, In Jesus Name, I break the power of the words spoken against me as a woman by men, or anyone else, that have caused me to be unsuccessful or a failure in my business, work place, home as head of my house, and ministry. [Then you command all demons of failure, etc. to go in Jesus Name.] AMEN
JESUS IS THE DELIVERER
DON'T STOP HERE! SEE OUR INDEX FOR MORE ARTICLES.
THERE IS NO HATE, MALICE, RACISM, ETC. ON THIS SITE. THESE ARE SINS IN THE EYES OF GOD, AND ARE ALSO DEMONS. THE BIBLE MAKES IT CLEAR THAT SIN CANNOT GET INTO HEAVEN.